William Randolph Hearst Greek Theatre| Berkeley
Get ready for a wild one everybody, it's time for the biggest punk rock show of the year!! That's right, Dropkick Murphys are partnering up with Rancid on a massive co-headlining tour with The Selecter and Kevin Seconds in support!! The furious four will take over the Greek Theatre Berkeley stage on Sunday 20th August 2017 – make sure you're there!! Click the "Buy Tickets," button NOW to guarantee your place at this UNMISSABLE show!!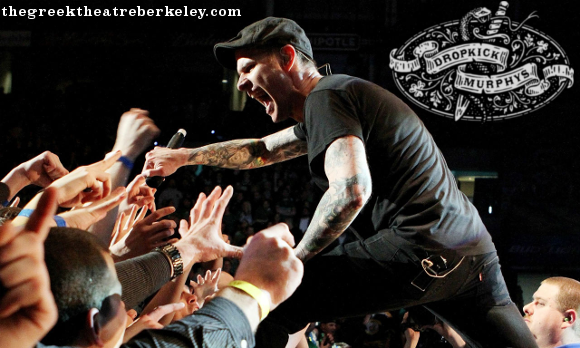 Opening the show is Kevin Seconds. Founder, together with younger brother Steve Youth, of the hugely influential hardcore punk band 7 Seconds in 1979, he has been involved with numerous side projects including Go National, Drop Acid, Mustard, 5'10", Ghetto Moments, Kevin Seconds & The Altruistics and Positively Ventilate!! Following this up will be the English 2-tone Ska revival band, the incredible The Selecter!! One of the most successful bands of the 2 tone era, regularly charting in the UK's Top 40, they promise to get you up and moving and full of energy for the headliners!!
Dropkick Murphy and Rancid have a long intertwined history. Founded by Tim Armstrong and Matt Freeman of the massive ska-punk band Operation Ivy, Rancid have stayed one of the most genuine punk acts of their time, credited both with staying true to their, staying on an independent label the entire length of their career and keeping the vast majority of their original fanbase as well as bringing an interest in punk back to the mainstream alongside bands such as Green Day and The Offspring!! Forming their own ska/punk label in 1997, Hellcat Records Tim Armstrong promptly signed American Celtic act Dropkick Murphy, and the rest is history. The two incredible bands will be sharing stage space in unmissable encores during the tour. Do NOT miss out – grab those tickets while you still can!!