William Randolph Hearst Greek Theatre| Berkeley
Talented troubadour Elvis Costello & his band, The Imposters, will be coming to Greek Theatre Berkeley on Saturday 3rd June 2017 as part of his Imperial Bedroom and Other Chambers Tour! The tour is named after Costello's 1982 album Imperial Bedroom, which will be revisited by the star, but maybe not in the way fans expect:
"You must have known by now that we wouldn't play this kind of show by anyone else's rules. You'll hear all the songs that fit the bill; hits and headlines, waifs and strays. In the words of the great [English comedian] Eric Morecambe, 'I am playing all the right notes but not necessarily in the right order.'"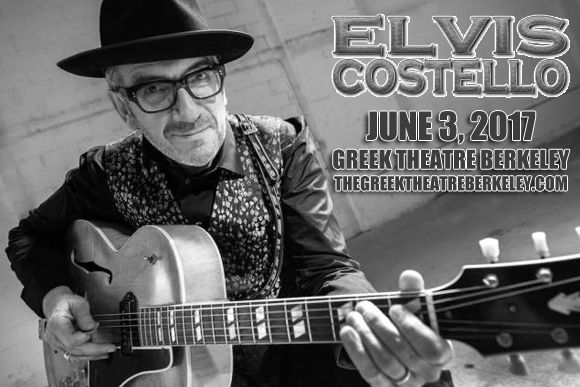 Elvis Costello is an English musician, singer-songwriter and producer, who first came to public attention in the late 1970s as part of the British New Wave scene. Costello's 1977 debut album, My Aim Is True, was released to widespread critical acclaim, and his first three albums all appeared on Rolling Stone's list of the 500 Greatest Albums of All Time. A multiple award-winner (including a Grammy Award), Costello has had a multitude of chart hits over several decades, and has enjoyed many diverse collaborations with other noted artists, including a cameo with Burt Bacharach in the comedy Austin Powers: The Spy Who Shagged Me. In 2003, Costello and the Attractions were inducted into the Rock and Roll Hall of Fame. In 2004, Rolling Stone ranked Costello number 80 on their list of the 100 Greatest Artists of All Time.