William Randolph Hearst Greek Theatre| Berkeley
Interpol are back with a brand new album, Marauder, and they're headed to Greek Theatre Berkeley on Saturday 6th October 2018! In true Interpol form, expect a night of intoxicating, unnerving rock 'n' roll, plus special guests The Kills & Sunflower Bean in support!
"This record is where I feel touching on real things that have happened to me are exciting and evocative to write about," said frontman Paul Banks of the album. "I think in the past, I always felt autobiography was too small a thing for me to reference. I feel like now, I'm able to romanticise parts of my own life."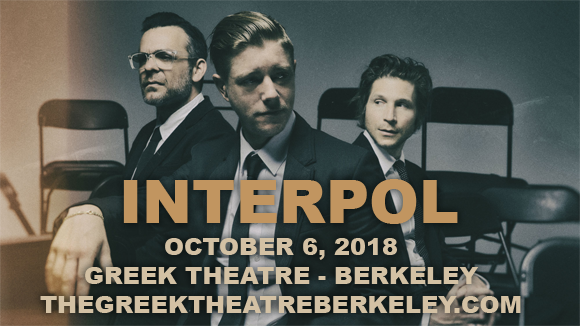 Formed in 1997 in New York City, American rock band Interpol released their critically acclaimed debut album Turn on the Bright Lights in 2002. By the end of the year, the album had made it to tenth position on the NME's list of top albums in 2002 and number one on Pitchfork Media's Top 50 Albums of 2002. The band went on to find even greater success with subsequent records Antics (2004) and Our Love to Admire (2007). To date, the band has released five albums and eight EPs, with their sixth and latest album, Marauders, due in 2018. To date, the band has sold over one million albums in the United States, and almost two million collectively worldwide.