William Randolph Hearst Greek Theatre| Berkeley
It's been a long wait, but it looks like the rumors are true!! Get excited everyone, because Jack Johnsons, after months of working in the studio in absolute secrecy, is embarking upon a nationwide U.S tour in 2017 with plans for a brand new album to be released in summer!! Be among the first to hear the NEW songs live: grab your tickets now to see Jack Johnson at the Greek Theatre Berkeley on Thursday 27th July!!!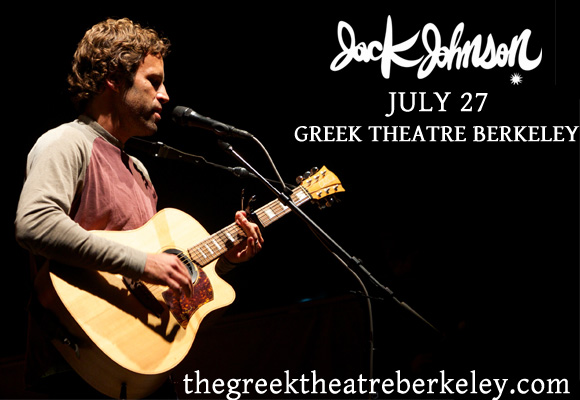 Former surfer Jack Johnson is known for his mellow, chilled, feel-good songs, such as the almost universally well-known and liked 2005 chart single "Better Together," the first song from "In Between Dreams," his third album. In addition to being a musician capable of delivering a steady stream of beloved albums and songs, Jack Johnson's talents, other than music and professional surfing, extend to record production, acting, and filming. Graduating the University of California with a B.A in Film Studies and playing guitar since the age of 8, his talents culminated in surf films "Thicker Than Water and "The September Sessions" in which he both starred AND provided the soundtrack!! With influences as diverse as Jimi Hendrix to Otis Redding to Bob Marley to Neil Young, Jack Johnson knows exactly how to craft elements together to create the ultimate soft rock listening experience.
After the success of his last album "From Here to Now to You," in 2013, fans are eagerly anticipating the release of his next five years on!! We can't wait either. Make sure you've got your tickets good and early before they sell out – it's going to be an amazing show!!