William Randolph Hearst Greek Theatre| Berkeley
Are you ready for the perfect soundtrack to those lazy, hazy summer days? King of chill Jack Johnson will be heading to Greek Theatre Berkeley on Wednesday 26th July 2017 for a night of mellow tunes and feelgood vibes! Embarking on his first full North American tour since 2014, the smooth-voiced serenader will be performing songs from his upcoming album, which is slated for release just before he hits the road! He will also be joined by special guest John Craigie!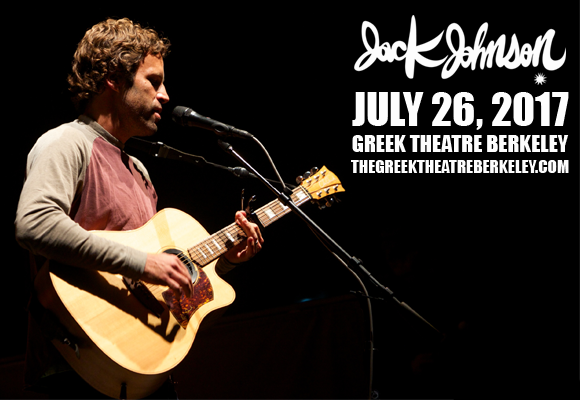 Hawaiian-born singer, songwriter, surfer and film maker Jack Johnson's first musical break came in 1999 when he was featured on the G-Love track "Rodeo Clowns," from the album Philadelphonic. Two years later, Johnson released his debut album Brushfire Fairytales. Since then, he has had four number one albums on the Billboard 200 chart, and his 2005 album In Between Dreams peaked in the number two spot twice, in 2005 and again in 2013. He is best known for songs such as "Upside Down"; "Flake"; "I Got You"; "Sitting, Waiting, Wishing"; "If I Had Eyes"; "You and Your Heart"; "Taylor"; "Better Together; "Good People"; and "Breakdown."