William Randolph Hearst Greek Theatre| Berkeley
As the day 'bleeds into nightfall, get ready to witness an emotional live performance led by the one and only Lewis Capaldi at his very own "Broken By Desire To Be Heavenly Sent" US tour. With an upcoming album and a slew of striking hits up his sleeve, fans are in for big surprises and waves of tears as the man performs his emotional lyrical tales live on stage at Greek Theatre Berkeley on Sunday, 30th of April 2023. His second studio album "Broken by Desire to Be Heavenly Sent" is coming out in early 2023, and its lead single "Forget Me" has hit the airwaves on an emotional ride. Don't forget to save your spot at Capaldi's heavenly sent voice live on stage by booking your tickets now!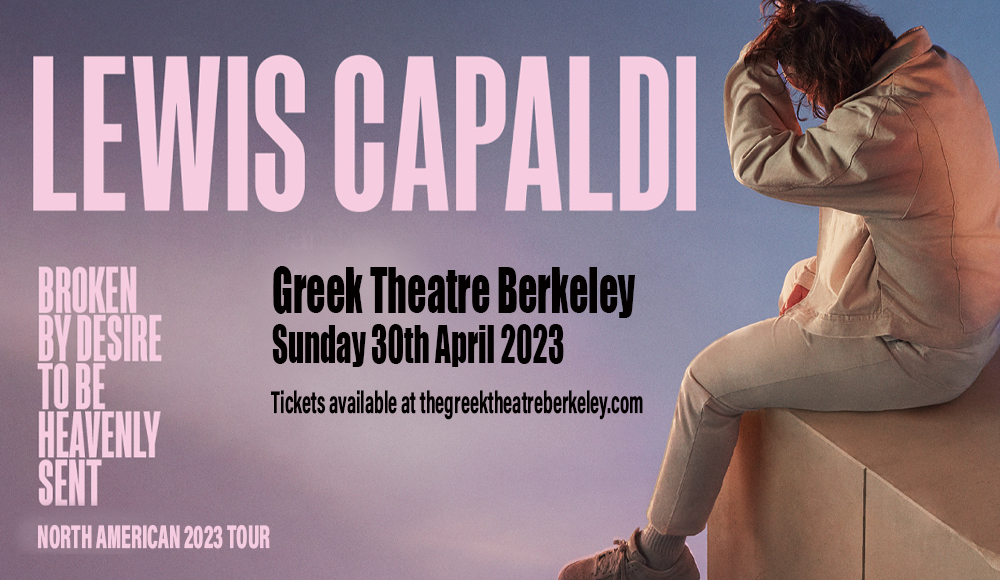 Winning the world's hearts by singing 'I need somebody to heal, somebody to know, somebody to have, somebody to hold' to his 2019 global hit single "Someone You Loved", Lewis Capaldi found the world relating and shedding tears to his lyrical tales that hit right home. As he rapidly rose to the global stage, he became the first artist to sell out an arena tour before the official release of his debut album.
Writing songs and taking recording sessions for his upcoming album since 2020, and even taking a break from social media in December of 2020 to better focus on his craft, the man finally dropped the album's lead single, "Forget Me", in September of 2022. A month later, he finally announced that Broken by Desire to Be Heavenly Sent is coming out on May 19, 2023, along with an extensive tour in support of his big new record.
Fans can expect his biggest hits including "Someone You Loved", "Hold Me While You Wait", and "Before You Go" to be performed live, along with fresh new tracks off of Broken by Desire to Be Heavenly Sent.
With "Someone You Loved" as a staple heartbreak track that resonates around the globe as he shared it was inspired by "losing people in different forms,"
"It's about loss in general, whether that be friendships breaking down or relationships ending or people in your family passing away," he shared about his breakout hit. "I wanted to keep it quite broad because I wanted people to apply their own stories. That's one of my favorite things about the song is so many people come up to me and say, 'This song means this to me.'"
With a new album landing real soon, "I felt like I was sounding better because I was just chilled out in my own gaff," the man shared. "I don't want to create a new sound for myself, or reinvent myself. The songs I want to write are emotional songs, about love or loss."
It seems that fans can expect an emotional rollercoaster of love, joy, grief, and sadness in its signature Lewis Capaldi style of reliability. With songs that possess authentic feelings at their core, Broken by Desire to Be Heavenly Sent is set to take listeners on a lyrical journey that hits right home.
Broken by Desire to Be Heavenly Sent in its entirety comes out on May 19, 2023.
Don't miss out on the Broken by Desire to Be Heavenly Sent North American tour leg by booking your tickets now!