William Randolph Hearst Greek Theatre| Berkeley
Nick Cave And The Bad Seeds are coming to Greek Theatre Berkeley on Saturday 24th June 2017!
Next year is already shaping up to be a big year for the experimental dark rockers as Nick Cave and The Bad Seeds showcase their electrifying brand new record, 'Skeleton Tree.'
Along with the LP comes a feature, that has been filmed all in Black and White and talks about the ideas behind the album, including the tragic death of Nick Cave's 15 year old son in 2015.
Tickets are already selling fast for this highly anticipated event…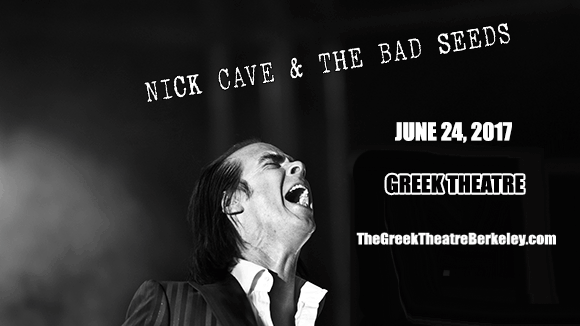 "Nick Cave has enjoyed—and continues to enjoy—one of the most extraordinary careers in the annals of popular music. He is an Australian artist like Sidney Nolan is an Australian artist—beyond comparison, beyond genre, beyond dispute."
Nick Cave is possibly one of the biggest names in Alternative Rock music. The Australian singer, songwriter headed to Los Angeles and put together a group in the mid 1980's, to form what we now know of as The Bad Seeds and just the following year came their debut album release.
The unique sound of Nick Cave is a tough one to explain, his interesting and melancholic melodies matched with poetic lyrics has been an inspiration to many fellow artists throughout the years. And after 20 years since the beginning of his mainstream career, the incredible artist is still surprising fans with new music and films – all with interesting variation that cannot be guessed easily.