William Randolph Hearst Greek Theatre| Berkeley
If you love Reggae music then this is the show for you!
This summer catch three of America's biggest Reggae names as they bring a LIVE show like no other! Slightly Stoopid, Iration & J Boog will be stopping off at Greek Theatre Berkeley on Saturday 22nd July 2017… fans can expect a show that is full of energy and nothing but good vibes! Come and kick back in the sun to feel good songs from Slightly Stoopid, Iration and J Boog! Tickets are available now.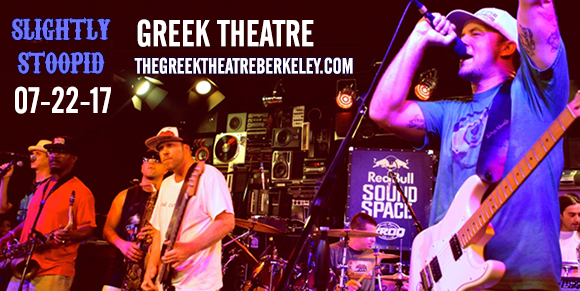 Slightly Stoopid are one of the biggest names on the American music scene as they bring an effortless blend of; Folk, Reggae, Rock, Blues, Hiphop, Metal, Funk and Punk… as you can imagine with a sound like that, their performances are something that cannot be described and only experienced as the energy is off the scale!
These guys are the true essence of what it is to be a live band and boy have they traveled, with their frequent appearances at festivals such as Coachella, Austin City Limits and Lollapalooza, under their belt! Plus world tours, if you have the chance to see them, then as any fan will say, take it! Music is meant to be felt and with Slightly Stoopid taking to the stage, emotions will run high.