William Randolph Hearst Greek Theatre| Berkeley
Heartland rock fans, get ready for the show of your life!! Tom Petty and The Heartbreakers are on their amazing 40th anniversary tour, coming to the Greek Theatre Berkeley on Tuesday 22nd August 2017!! Don't miss your chance to be there at this iconic concert – its a once-in-a-lifetime opportunity! Book NOW to be sure of your place!!!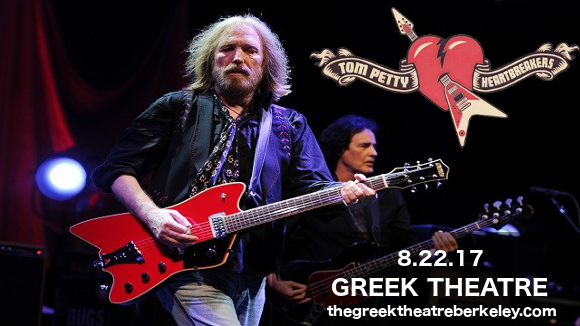 Hailing from Gainesville, Florida, with an original lineup comprised of Tom Petty, frontman, Mike Campbell, lead guitarist, Ron Blair, bassist, Stan Lynch, drummer, and Benmont Tench, keyboardist, Tom Petty and The Heartbreakers, along with several other artists including Bruce Springsteen and Bob Seger, were one of the most prominent bands on the emerging heartland rock scene of the 1970s and 80s. Rising up as a counter to the overly intellectual synth-led bands of the 80s such as Depeche Mode and The Pet Shop Boys, heartland rock aimed to take music back to its roots, focusing on a guitar-led raw rock sound with simple, relatable lyrics about topics we can all understand.
The band had several massive hit singles in their time including "American Girl", "The Waiting", "Mary Jane's Last Dance" and "Learning to Fly". Although the movement ended, the band's fanbase remained strong and devoted, and Tom Petty and The Heartbreakers continued to tour and record – and are still doing so today, 40 years on since their formation!!
Don't miss your chance to catch the band that defined a genre – get your tickets to Tom Petty and The Heartbreakers while they last!!