William Randolph Hearst Greek Theatre| Berkeley
The legendary artist that is – Beck is coming to ROCK Greek Theatre Berkeley on Friday 14th July 2017!
This is got to be an unmissable event for any music fan, whatever your favorite genre, there's no doubt that Beck will deliver. This Summer, experience his sonic sounds in concert! As the sun starts to come out and the weather continues to warm up, Beck is that perfect soundtrack to listen to! Don't hesitate – tickets are on sale, so book yours while you can!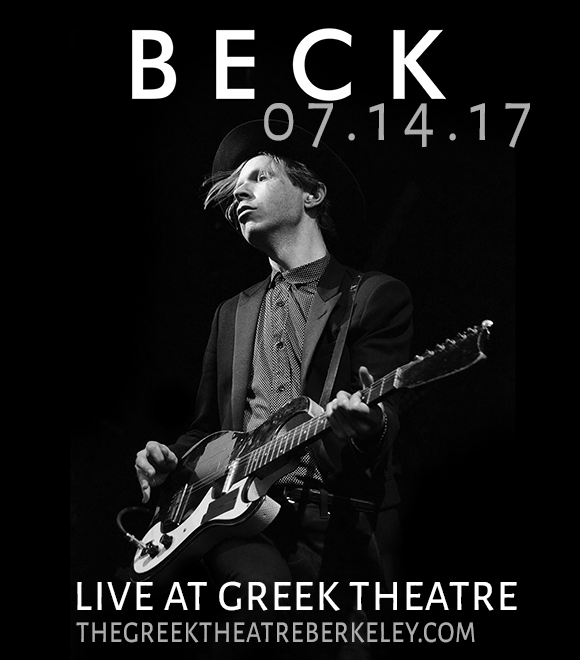 Beck is one of the best singer/songwriters of modern time… his impeccable songs have been featured on countless movie scores around the world. As well as influencing so many fellow artists, in not just the rock genre but across the board.
Starting his career off back in the mid 1990's, beck begun to perform around New York, spreading his style where-ever he went, this movement was called the 'Anti-Folk'… as his sound combined several elements but in a soft acoustic way.
His first major success came with the 96' release of 'Odelay' – it was one of the biggest recommended albums of the year and received nothing but the greatest praise from reviewers, this wonderful push, launched him into the limelight and later he won multiple awards. Since the very first steps to becoming who we all know of today, Beck has releases an impressive 12 albums to date, all of which have spread across and held a varied collection of genre-bending sound. From folk, to electronic and rock, to psychedelia, to mainstream and to even Hiphop! Get ready for 2017 as it's bound to be yet another great year ahead for Beck and his showcase of classic and fresh out of the studio!