William Randolph Hearst Greek Theatre| Berkeley
Bob Weir and Wolf Bros comes to Greek Theatre Berkeley on Saturday 24th July 2021. For old-timers and newcomers alike to the cult of the Grateful Dead, co-founder Bob Weir and his current band, Wolf Bros, already brought a revival to Red Rocks on June 8. And at the first of four Colorado shows, Deadheads from 2 to 92 were ready for ecstasy. And it was a glimpse of what we can expect of their 2021 tour. he set list was no strange trip — but it was a good one, loaded with crowd-pleasing numbers that kept everybody singing along, no matter how high they were. Tickets available.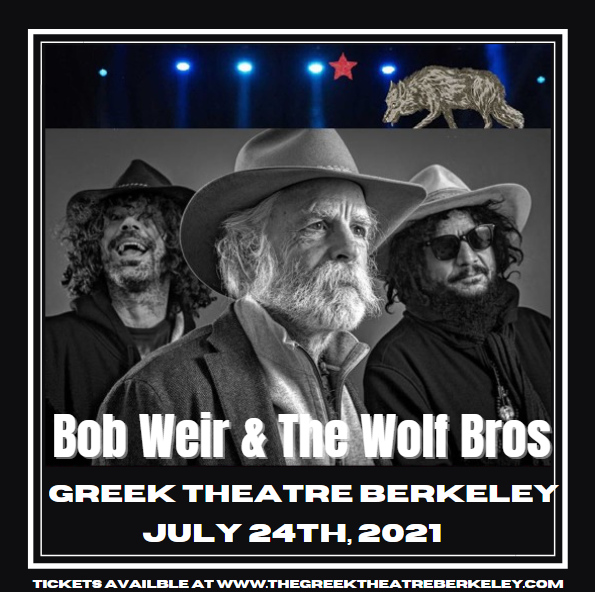 Weir was accompanied by untamed keyboardist Jeff Chimenti, who drove the band, pounding honky-tonk hard on the piano, and guitarist and pedal-steel player Greg Leisz.
Along with the three stars, other musicians played horns and strings and drums, winding their way through decades of Grateful Dead tunes with ease, honoring each era's sound, mercifully avoiding the interminably self-indulgent jams that only psychedelics make palatable — and perhaps performable. In other words, they stuck to the country, blues and Americana songs that suit Weir's gritty, full-bodied voice, which is stronger than ever. The hope and salvation through embracing life in its joys and sorrows, is the gospel of the Dead that Weir continues to preach. "I hope Bob plays till he's 102," said one fan leaving the show. In some form or other, Weir and the Dead will live forever. Tickets available above.