William Randolph Hearst Greek Theatre| Berkeley
Lana Del Rey's "Norman F***ing Rockwell" tour will stop in Berkeley the much-anticipated show on Oct. 6, and tickets are now available. Don't miss your chance to see this fantastic Lady live on stage and hear the brand-new album!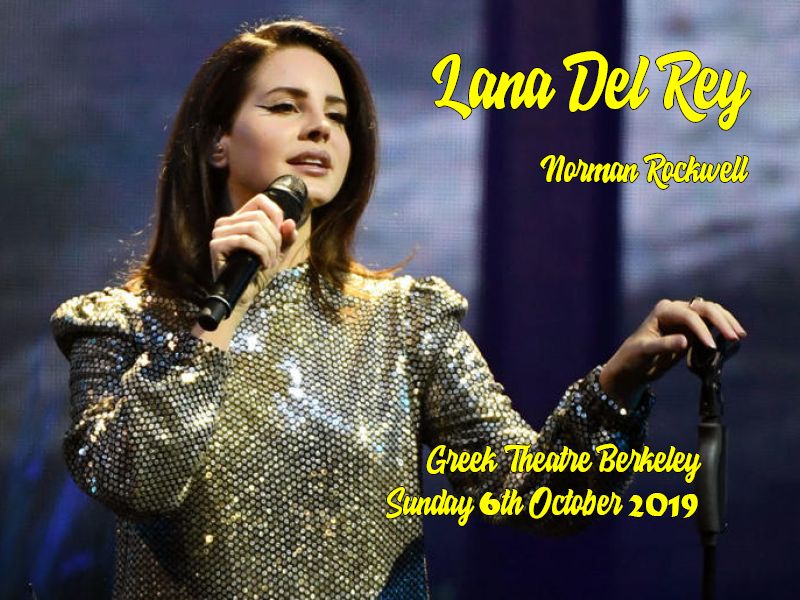 The tour comes hot on the heels of Del Rey's latest studio album, "Norman F***ing Rockwell," slated to release on Aug. 30. Promoting the singer's first album since 2017, the U.S. leg of the tour stops in eight cities. Performances kick off Saturday, Sept. 21, in Wantagh, New York, and wrap up on Friday, Oct. 11, in San Diego. Then, Del Rey will head to Europe for shows in Paris, London, and Berlin.
2011 song, "Video games" artist Lana Del Rey is known for her cinematic song quality with nods to 1950s and 1960s pop culture. Her 2013 hit, "Young and Beautiful," became the theme for "The Great Gatsby," starring Leonardo DiCaprio. In 2014, the star saw more of the silver screen when she recorded "Big Eyes" for the Tim Burton film of the same name.
"No pop artist in recent memory has so acutely channelled the tortured, all-American beauty queen quite like Lana Del Rey, a fantasy the singer-songwriter embodies with such detachment and such sincerity she's won a diehard fanbase worldwide." – The Gardian.
"Del Rey is an enthralling presence. Written off seven years ago – after an extremely shaky Saturday Night Live performance – as a flash in the pan, she has more than proven herself by now. There is staying power in her languid, out-of-its-time Americana, and tonight she performs it with glamour and conviction. Her voice – soft and breathy, more purr than powerhouse – fills the air like smoke in an old saloon bar." – Alexandra Pollard, The Independent.
Fans in Berkeley are sure to hear hits like "Summertime Sadness," "Blue Jeans" and "Born To Die" as well as tunes from the new EP. Lana Del Rey will also be releasing her first poetry collection in 2019, "Violet Bent Backwards Over the Grass."