William Randolph Hearst Greek Theatre| Berkeley
'Tired of love songs, Lauv is finally back in love more than ever as he shares how he's ready to surrender to love and life in his newest single and video for "All 4 Nothing (I'm So In Love)". The new track is a taste of his upcoming album "All 4 Nothing" coming out this August. As Lauv hypes his fans up for this new era, he's inviting fans to catch him live at the All 4 Nothing Tour, stopping by at Greek Theatre Berkeley on Thursday, 15th of September 2022. Joining him is special guest Hayley Kiyoko. The man behind hit singles "I'm So Tired…" with Troye Sivan, "The Other", and "I Like Me Better" is ready to give it all for love. So, don't miss out and book those tickets now!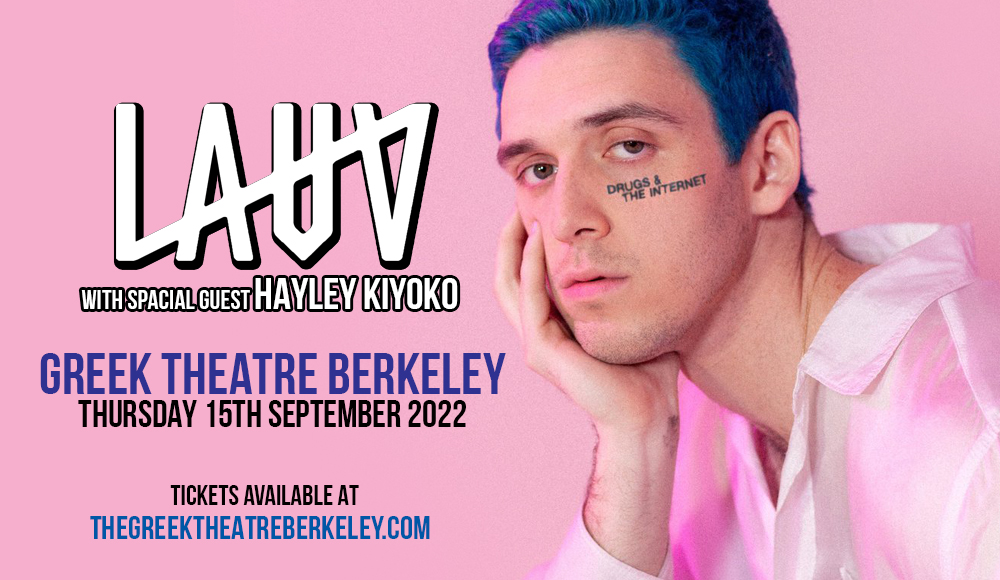 Having found a love for music in his early years, Ari Staprans Leff started learning the piano and the viola before playing the guitar. He started writing songs at around the age of 14, mostly about breakups and heartaches even without having experienced a relationship at the time. Leff said he was "fully obsessed" about making music that he didn't have any interest to "drink, or do drugs, or anything," Lauv said in an interview with Zach Sang Show. Before taking the identity as "Lauv", Leff first took the stage name "Somersault Sunday", dropping some early tracks into MySpace.
Recalling that his sister would drive him and his friends on a tour, playing for an audience of "zero people", and intimate basement concerts during his high school years, Lauv today performs for thousands of concert-goers, flying around the world to give his best shows.
His first viral track "The Other" was co-written with Michael Matosic in 2014, amidst having gone through a breakup at the time. The track was uploaded to SoundCloud in 2015, became viral, and entered the Global Top 100 on Spotify.
With some internet buzz and a new following, Lauv found his big break with his 2017 hit single "I Like Me Better". To date, the track has been streamed over 1.3 billion times on Spotify. It is awarded 4x Platinum by the RIAA. With catchy hooks and jumpy beat drops, Lauv has won the hearts of listeners worldwide. From basement gigs in his humble beginnings, Lauv headlined his own US tour and joined Ed Sheeran as his supporting act on the Asia leg of the Divide Tour. In 2019, he went on his own headlining Asia tour.
After releasing his 2018 compilation album "I Met You When I Was 18 (The Playlist)" described as a chronicle of moving to New York and falling in love, Lauv dropped a slew of hit singles in 2019 and finally released his debut studio album "How I'm Feeling" in March of 2020.
"How I'm Feeling" includes hit singles "Fuck, I'm Lonely" featuring Anne-Marie, "Feelings", "Mean It" with LANY, "Tattoos Together" and "I'm So Tired…" with Troye Sivan.
Lauv has also collaborated with other artists including Julia Michaels for "There's No Way", Ava Max for "Kings & Queens, Pt. 2", and BTS for "Make It Right".
Known for stories of falling and love and breakups driven by jumpy beats and synths, Lauv is set to surrender all for love and life in this new era with the release of his upcoming sophomore album "All 4 Nothing" this August 5th. He's given the world a taste of his new record with his newest single "All 4 Nothing (I'm So In Love)" – to which he describes as "a song about loving someone so much at a time in your life when you're still in the process of learning how to love yourself and being scared how your own personal insecurities could ruin a love that is and could be so genuine and transformative. In essence, it's a song about surrendering to love and life." he said in a press release.
Ready to give it his all, join Lauv to bring this new era to life at the All 4 Nothing Tour! Book your tickets now!