William Randolph Hearst Greek Theatre| Berkeley
One of the hottest electronic musicians and YouTubers, Marc Rebillet, is set to bring his sexy energy and beat to the stage this fall at Greek Theatre Berkeley on Saturday, 5th of November 2022. What started off as YouTube clips and streams of improvising songs in his apartment and hotel rooms wearing boxer briefs, the man became viral and amassed a fanbase for his streams that could cover a wide array of topics from romance, sex, and snacking on food. Though fans later found themselves sticking with Rebillet for his unique electronic beats that go around different genres. So, catch the one and only Marc Rebillet hit the stage at Greek Theatre Berkeley by booking your tickets now!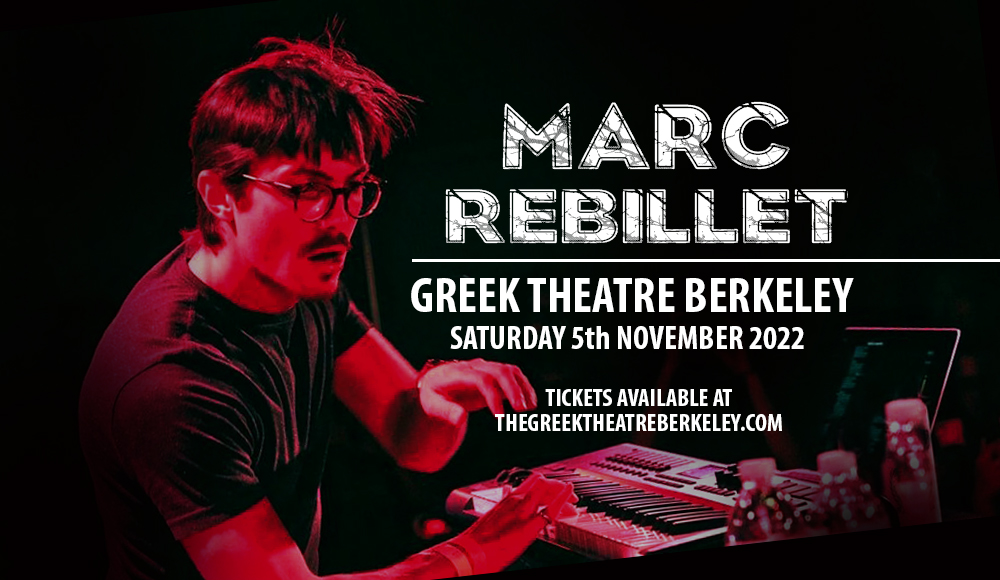 The man is known for his unique musical improvisation that gets everyone's mood on for his content that features themes of romance and sex, and random topics like snacking. The one and only Marc Rebillet won the world's hearts for his electronic goodness while dancing in his boxers, going viral through Reddit and Facebook in 2016. He's been praised for his signature live looping and improvisation tricks that he takes to the live stage at every show.
The one-man improv hot lad arms himself up with a keyboard and a loop station whilst dressed in a silk robe that exudes his charm and talent that bring fans a unique live concert experience. Billboard penned him as a "Billboard Dance Emerging Artist" in 2019 and cited his "sexy hooks up his silky sleeves" and his "sensual R&B burners to hip-hop-tinged funk creations".
Marc Ribellet's tracks range from genres of soul, funk, blues, lo-fi beats, and much more experimentation along with trap bangers when his mood is up for it.
Though widely known for his humor and quirky musical talent, Ribellet expressed in an interview with The Red Bulletin that he doesn't want to be "considered a comedy musician". "I hope that what I'm doing is banger enough to stand as good music, and then I'm just doing stupid shit over it…" he shared.
"The music is the main concern. It needs to sound good in order for me to be able to do anything remotely funny over it." Ribellet said. "I think over the years my stuff has become less shock-value shit. It's less like goofy comedy and more refined, I hope. There are a lot of serious messages in there now, and I hope the music sounds a little better than it did a few years ago."
Though widely known for his comedic content, Marc Ribellet is here to stay as a talented musician in the scene who brings in positive energy for everyone to hear and experience at his live shows. He's a man of growth and optimism – and wants you to know that he takes his craft seriously for everyone to enjoy.
Catch the one and only Marc Ribelllet with his gear, unmatchable charisma, and sexy vibes on a silky robe live on stage at Greek Theatre Berkeley by booking your tickets now!