The William Randolph Hearst Greek Theatre | Berkeley, California
The country's premier folk-rock act is back on the road! Nathaniel Rateliff and The Night Sweats are back to bring soulful shows across the country on tour, lighting up the stage at Greek Theatre Berkeley on Saturday, 13th of August 2022. Singing 'Give me a drink, one more night' to their RIAA-Platinum hit "S.O.B.", it's time to raise those hands as Rateliff & The Night Sweats get the party started! With a new album "The Future" up their sleeves, you can expect them to perform their best hits and fresh tracks like "Survivor". Don't miss out on the party by booking those tickets now!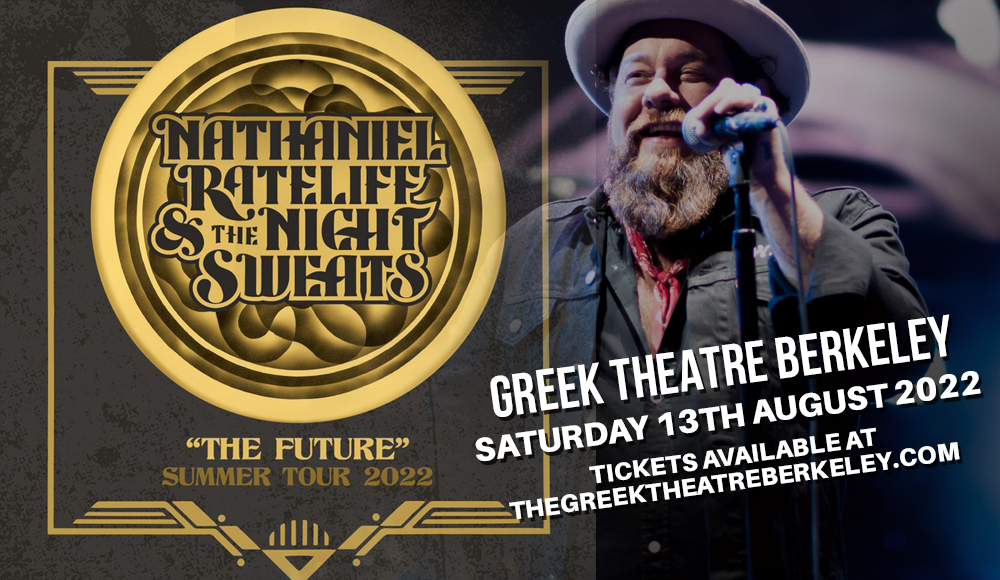 Hailing from rural Missouri, Nathaniel Rateliff found a heart for music, learning to play the drums at 7, and teaching himself the guitar in his teen years. Though finding breakout success with "S.O.B." with The Night Sweats, Nathaniel Rateliff's spot in the music scene dates back to 2002, performing with Born in the Flood and the Wheel.
Uniting with his long-time collaborator, Joseph Pope II, joined by Luke Mossman on guitars, Wesley Watkins on trumpets, and Andy Wild on the saxophone, they joined forces as Nathaniel Rateliff and The Night Sweats, releasing a self-titled album. They released its leas single "S.O.B.", which became a hit, marking Rateliff's breakthrough with the Night Sweats.
It was "an album Rateliff made as a last-ditch effort before throwing in the towel on his music career, only to see it go viral and turn into a runaway hit." said Los Angeles Times.
With a top-ten Hot Rock hit awarded Platinum by the RIAA, Nathaniel Rateliff and The Night Sweats followed it up with their second studio record, "Tearing at the Seams", hitting #11 on the Billboard 200. It features its fan-favorite hit single, "You Worry Me" which sends messages of hope and support. The album's other singles include "Hey Mama" and "Say It Louder".
In November of 2021, they dropped their third studio album "The Future" with its lead single "Survivor".
As stages across the country light up back to life, Nathaniel Rateliff and The Night Sweats are in it to echo soulful folk-rock tracks that ignite hope and get the party started! So, book your tickets now!