William Randolph Hearst Greek Theatre| Berkeley
The moment people heard that golden voice on the airwaves singing 'come away with me…', she swept music fans off their feet. Enamored, enchanted, and charmed by the sultry jazz singer named Norah Jones. That was 20 years ago, yet music fans are still hooked. Norah Jones is also a quintessential live concert artist whose most ardent fans will jump at any opportunity to catch her live performances. As she dropped the announcement of her 2022 tour dates, which include her much-awaited show at the Greek Theatre Berkeley on Friday 24th June 2022, the hot ticket alert has been switched on. If you are on the lookout for quick, easy, and worry-free ways to get choice seats to enjoy Norah Jones in concert, you're now in the right zone. Start by clicking on the 'get tickets' link and lock in your tickets now.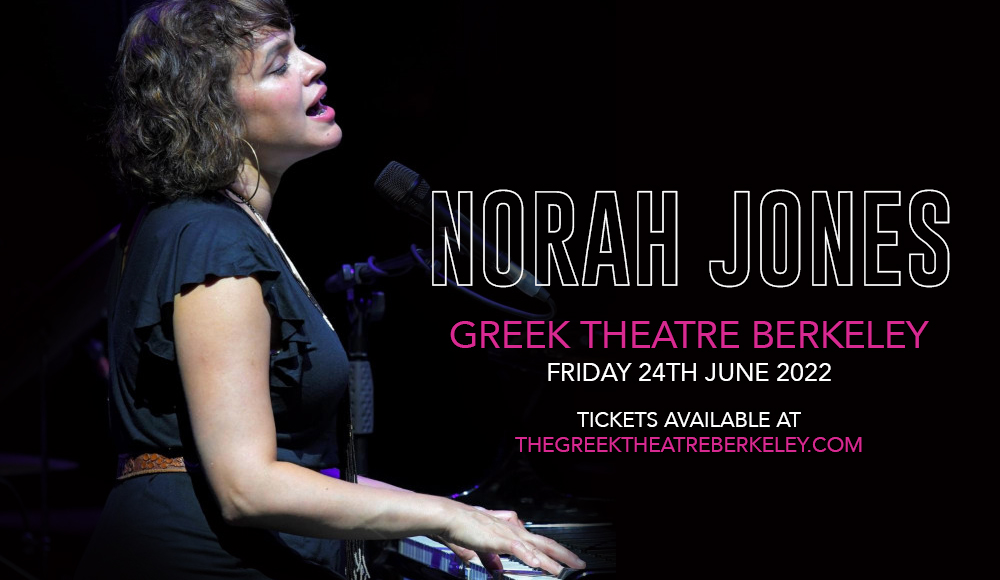 She might have the heredity and the right connections — being the daughter of legendary Sitar performer and friend of The Beatles Ravi Shankar. Yet Norah Jones illuminated her career all on her own. After graduating from the University of North Texas (UNT), where she majored in jazz piano and sang with the UNT Jazz Singers and paid her dues as a lounge singer before becoming a recording artist, Norah Jones started working on her 'moody little record' as she describes it. The outcome was her single and debut album title track 'Come Away With Me' in 2002. That lone wistful and melancholic voice accompanied by a fusion of jazz with country, blues, folk, and pop, emerged to become a global phenomenon. Propelled further up by the follow-up single "Don't Know Why", the album topped the airplay and record sales charts and was certified diamond, selling over 27 million copies. Norah Jones also picked up five Grammy Awards, including the Album of the Year, Record of the Year, and Best New Artist.
Norah Jones' career so far, is decked with 9 Grammy Awards and certified with sales of over 50 million albums worldwide. Billboard named her the top jazz artist of the 2000s decade and was ranked 60th on Billboard magazine's artists of the 2000s decade chart.
"Just a Little Bit," "It Was You," "Those Sweet Words," "Begin Again," "Wintertime," "Sunrise," "My Heart Is Full," "Come Away with Me," "Don't Know Why" and "Flipside," are just some of the songs you'll get to enjoy as Norah Jones hits the stage of the Greek Theatre Berkeley on Friday 24th June 2022. Don't miss it; book your tickets now!