William Randolph Hearst Greek Theatre| Berkeley
Fans of far-out psychedelic pop-rock take note! The truly incredible Portugal. The Man together with the amazing Local Natives take over the stage on Friday 28th July 2017 at the Greek Theatre Berkeley! Two great bands in one performance that will blow your minds!! This will be a sellout show, so don't delay – grab your tickets using the "Buy Tickets" button above!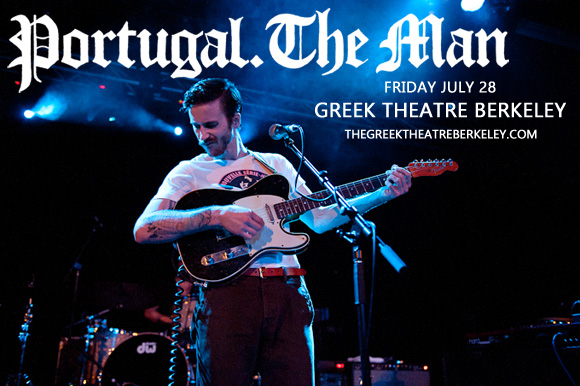 Starting out without a drummer, using a drum machine and synth loops instead, and with a frontman, John Gourley, who had no prior singing experience, Portugal. The Man have never been afraid of taking risks!! Formed in Alaska, they swiftly left for Portland to record and tour in 2005, releasing "Waiter: You Vultures!" as their debut in 2006. With a constant music-first attitude, the band have passed from one label to another, always putting their art first before press or media hype, earning much respect and love from their strong and expansive fanbase.
"Portugal.The Man to me doesn't have any real ties," reflects Gourley. "We try to change things up with every album, really progress and let things happen. I think that's the best thing about it. There's nothing specific about the band, which is — I think — why we've become a rock band."
In support are the similarly music-focused Local Natives. Previously known as Cavil at Rest, Local Natives are an LA-hailing indie rock band, known for their unique sound, described as "afropop-influenced guitars with hyperactive drumming and hooky three-part harmonies." Gorilla Manor, their first album, was released in the US in 2010 to overwhelmingly positive reviews, debuting at No.3 in the New Artist Chart and arriving into the Billboard 200!!
Don't miss your chance to see some genuine indie music live from true musicians who put passion and work into their craft – the result is sublime!