William Randolph Hearst Greek Theatre| Berkeley
It's funk rock time as Les Claypool's bunch of weirdos Primus & their groovy Maryland counterparts Clutch are heading to Greek Theatre Berkeley on Friday 18th August 2017! Each band will be performing a full set for maximum funkage, so get ready to get down – it's gonna be nuts!!!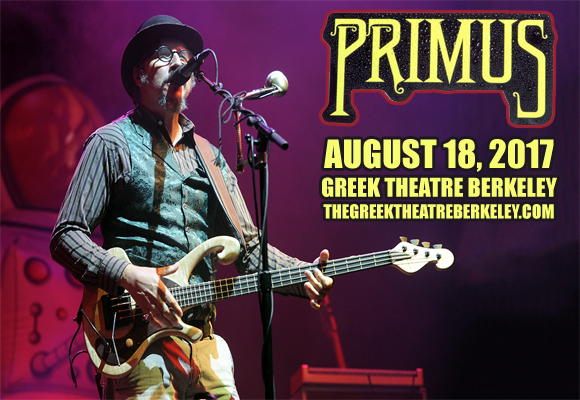 Experimental, bass-driven funk rock band Primus was formed in 1984 in El Sobrante, California. The band is currently formed of bassist/vocalist Les Claypool, guitarist Larry "Ler" LaLonde (both formerly of thrash metal band Blind Illusion) and drummer Tim "Herb" Alexander. Having released eight musically diverse, complex and unusual albums to date, it's no wonder the band have made a name for themselves as "… quite possibly the strangest top-10 band ever!" With a sense of irreverent fun about them, Primus are known for recording the original theme for the TV show South Park, and their most recent release, 2014's Primus & the Chocolate Factory with the Fungi Ensemble, is a re-imagining of the soundtrack to the 1971 film Willy Wonka & the Chocolate Factory.