William Randolph Hearst Greek Theatre| Berkeley
You say you want a 'Rebelution' ? Well, you know…you've come to the right place! Everything and all the things reggae is coming right up these shores. Reggae rock masters Rebelution will be making waves as they hit the Greek Theatre Berkeley stage on Saturday 22nd June 2019. If reggae, and all its styles subtleties, is your kind of jam, then Rebelution fits everything to a tee! The vibrant reggae community around here will definitely keep ticket sales busy as a bee. Round up your beach-loving' buddies and start getting your tickets before it runs out. Hurry, book your tickets now!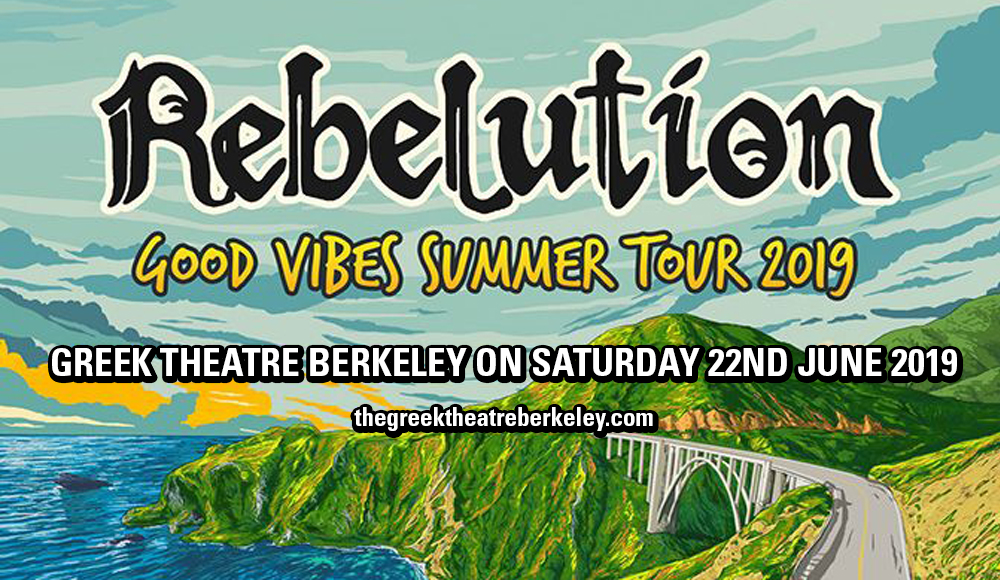 If you're wondering why the sun is smiling down on some parts of the world, chances are, Rebelution is playing live in that corner of the globe. Indeed, Rebelution are reggae wizards who can brighten up a dreary day with their sun-shiny reggae beats. Rebelution are astonishing craftsmen who can weave reggae, reggae rock, roots reggae oh and calypso in sound tapestries that are certified beach-ready melodies.
Rebelution is composed of founder Eric Rachmany on vocals and guitar, Matt Velasquez on Vocals and guitar, Rory Carey on keyboard, Wesley Finley on drums and Marley D Williams on bass. They released their self-titled debut EP in 2006 and built on their momentum by doing local shows and DIY promotional efforts. Their breakthrough single was "Count Me In", which made it to No. 14 on Billboard's Top 200. The following year, they released their first full-length album titled "Courage to Grow", picked as iTunes Editor's Choice for Best Reggae Album, ranked No. 4 on Billboard's Top Reggae Albums and was responsible the band's jam-packed shows. In 2010, they started getting top-tier gigs, sharing the stage with the likes of Slightly Stoopid and Lauryn Hill.
If you seriously love reggae music, no other show could elevate you to high spirits. Rebelution is to way to go!