William Randolph Hearst Greek Theatre| Berkeley
Social Distortion are back on the touring scene with a brand new upcoming album (their first in eight years) and they're bringing Celtic punk-rockers Flogging Molly with them on an epic co-headlining tour! Get ready to dance hard and drink harder with these two anarchistic bands, who are coming to Greek Theatre Berkeley on Thursday 26th September 2019 with support band The Devil Makes Three in tow!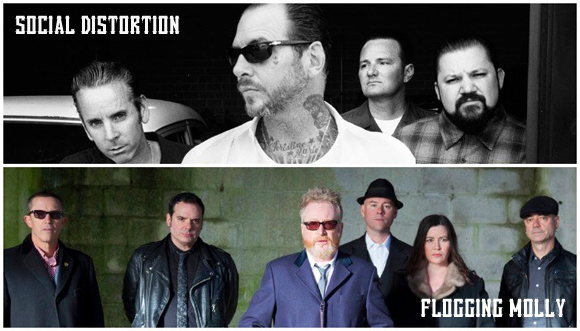 One of America's best-selling punk bands, with over three million records sold worldwide, Social Distortion was formed in 1978 in Fullerton, California by frontman, lead singer and lead guitarist Mike Ness. Throughout its 41 years, the band has seen a number of line-up changes, with Ness remaining the group's only consistent member, and has released seven full-length studio albums, two compilations, one live album, and two DVDs. After self-releasing two albums – Mommy's Little Monster (1973) and Prison Bound (1988) – the band signed a three-album major-label contract with Epic Records in 1989. The following year, they released their self-titled breakthrough album, which launched the hit singles "Ball and Chain", "Story of My Life", and a cover of Johnny Cash's "Ring of Fire". The band's eighth studio album is slated for a 2019 release.