William Randolph Hearst Greek Theatre| Berkeley
String Cheese Incident are back on the road, baby! Coming to Greek Theatre Berkeley on Saturday 7th August 2021 for the second night in a row, this pioneering jam band are returning to the stage, where they belong, for a night of epic music! Of course, SC are known for their equally stunning visuals, audience interaction, and impeccable musicianship – the crowd is in for an amazing show!!!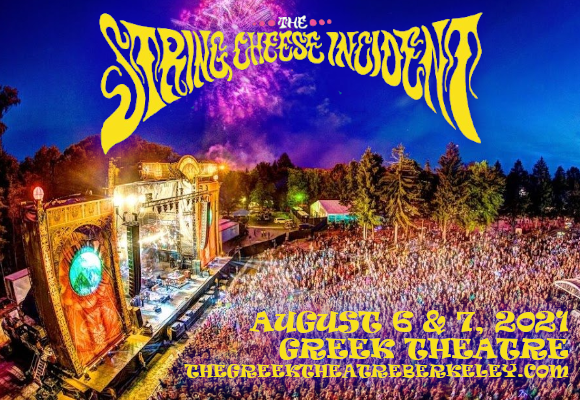 Hailing from Colorado and formed in 1993, The String Cheese Incident is a jam band that has made its name throughout the festival circuit over the years (having headlined Bonnaroo, Austin City Limits and the Wakarusa Music and Camping Festival, among others), building a huge following due to its spectacular and psychedelic live shows. The group is known for incorporating many different styles and genres into its music, including bluegrass, jazz, psychedelia, rock, electronica, reggae and more. To date, the band has released 10 studio albums, three live series, and eight live DVDs. On stage, The String Cheese Incident are known for themed events – some examples being: "Full Moon Dream Dance, Evolution", "Dancing Around the Wheel of Time", a "Subway Ride Through New York City", and a "Time Traveler's Ball". The band is composed of Michael Kang (acoustic/electric mandolin, electric guitar, and violin), Michael Travis (drums and percussion), Bill Nershi (acoustic guitar, lap steel guitar, and electric slide guitar), Kyle Hollingsworth (piano, organ, Rhodes, and accordion), and Keith Moseley (bass guitar), with John Hann (auxiliary percussion) joining in 2004.