William Randolph Hearst Greek Theatre| Berkeley
Are you ready for a knee-slapping good time? The Avett Brothers are headed to Greek Theatre Berkeley on Friday 16th August 2019 for two nights in a row, bringing their sunshine-drenched modern folk to the stage for a night of old tunes, new tunes and a LOT of dancing! With whispers of a new album waiting in the wings, who knows what we can expect from the fellas, but it's sure gonna be good!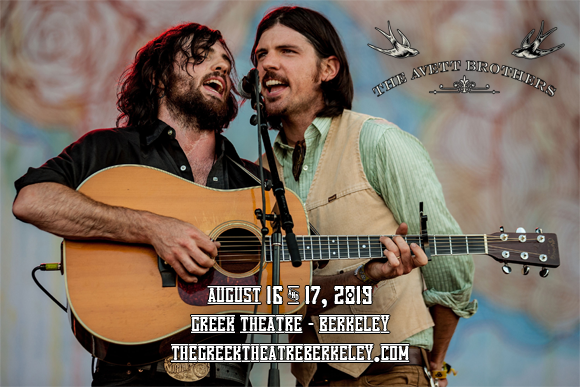 Formed around the turn of the millennium by siblings Scott and Seth Avett, The Avett Brothers is an American folk rock band. After their first band, Nemo, disbanded they decided to pursue a more roots-based sound and in around 2001 they added bassist Bob Crawford to the mix, releasing their debut album together the following year. The album, Country Was, led to a contract with Ramseur Records with who they released their debut studio album, A Carolina Jubilee, in 2003. Cellist Joe Kwon joined the band in 2007 and debuted on their fifth studio album, Emotionalism. The album led to a record deal with Rick Rubin's American Recordings label, and the release of 2009's I and Love and You, which was produced by Rubin. The album served as their mainstream breakthrough, reaching number 16 on the Billboard 200 best-selling albums chart, number 8 on the best-selling digital albums chart, number 7 on the rock albums chart, and number 1 on the folk albums chart. The band has since released two more Billboard 200 top five albums with the label, and has accrued three Grammy Award nominations.