William Randolph Hearst Greek Theatre| Berkeley
Get ready to rave 'cause The Chainsmokers are back to pull you 'closer in the back seat of your rover to an awesome night at Greek Theatre Berkeley on Friday. 28th of October 2022. With their new album "So Far So Good" freshly released, the DJ duo is set to embark on a new tour in support of their new record. Taking the world by storm with 2014's "#Selfie", and a slew of hits from 2016 and beyond including "Don't" Let Me Down feat. Daya and "Closer" feat. Halsey, The Chainsmokers changed the game for mainstream EDM hits. Having served their fourth studio record, The Chainsmokers have proved that they have grown.. for the better. Catch The Chainsmokers' new era come to life on stage at the So Far So Good tour by grabbing those tickets now!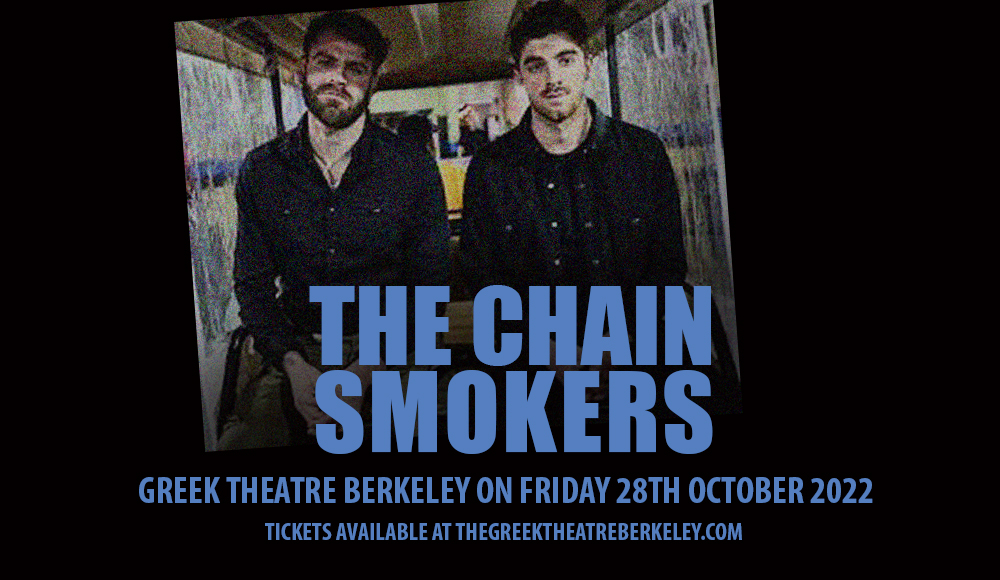 Emerging into the scene in 2013 with their satirical track "#Selfie" becoming a viral hit, DJ duo Alex Pall and Drew Taggart soon found themselves at the top of the EDM game with their 2016 singles "Don't Let Me Down" and "Closer" becoming a massive global hit. The singles earned 9x Platinum and 14x Platinum certifications from the RIAA respectively.
With humble beginnings in 2012 making rounds in SoundCloud and HypeMachine, the duo found their breakthrough through their free single #Selfie in 2013, charting internationally on the Dance/Electronic Songs chart. Pall expressed that the track was "life-changing" for them.
In 2015, they dropped another international hit song "Roses", bagging multi-platinum certifications, and hitting #6 on the Hot 100. A year later, The Chainsmokers came crashing further into mainstream success with a slew of massively successful singles including 2016's "Don't Let Me Down" featuring Daya, "Closer" featuring Halsey, "All We Know" featuring Phoebe Ryan, 2017's "Paris" and "Something Just like This" with Coldplay, 2018's "This Feeling" with Kelsea Ballerini, and so on.
When the duo wrapped up their 2019 World War Joy tour, The Chainsmokers took a hiatus from social media. The group disappeared for a while, expressing a need to focus on their "next chapter in music". 2 years later, the duo teased two singles "High" and "iPad" before the release of their fourth studio record.
May 13th of this year, The Chainsmokers finally dropped their newest album "So Far So Good". After some struggles over the past years, the duo is stronger and better than ever, with a new record that they are ever so proud of.
"They got to a point where they were like, 'We don't need to keep making the same type of music over and over.' " said longtime manager Adam Alpert.
With a new album where they've spent quality time working on and bettering themselves and their sound, the duo expressed that it was sort of a life-changing moment for them. "It does feel like we're a new band starting over in a lot of ways," Pall said. "I don't mean that in any sort of negative way. It's the best feeling ever."
The Chainsmokers have evolved – and the right way at their best. It's a new decade and a new era for the global DJ duo sensation to take on. With So Far So Good fresh from the drawer, fans are in for a great ride with The Chainsmokers. Don't miss out on the So Far So Good tour and it's big surprises by booking your tickets now!