William Randolph Hearst Greek Theatre| Berkeley
As the two notable indie bands, The Postal Service and Death Cab for Cutie, celebrate 20 years of their career-defining records "Give Up" and "Transatlanticism" respectively, the indie rockers are teaming up for a co-headlining double 20th-anniversary tour this 2023. As both records set industry-defining sounds for new wave and rock alike, The Postal Service and Death Cab for Cutie are gearing up to celebrate the 20th-anniversary tour with a special stop at Greek Theatre Berkeley on Wednesday, 11th of October 2023. Don't miss out on each act by booking your tickets now!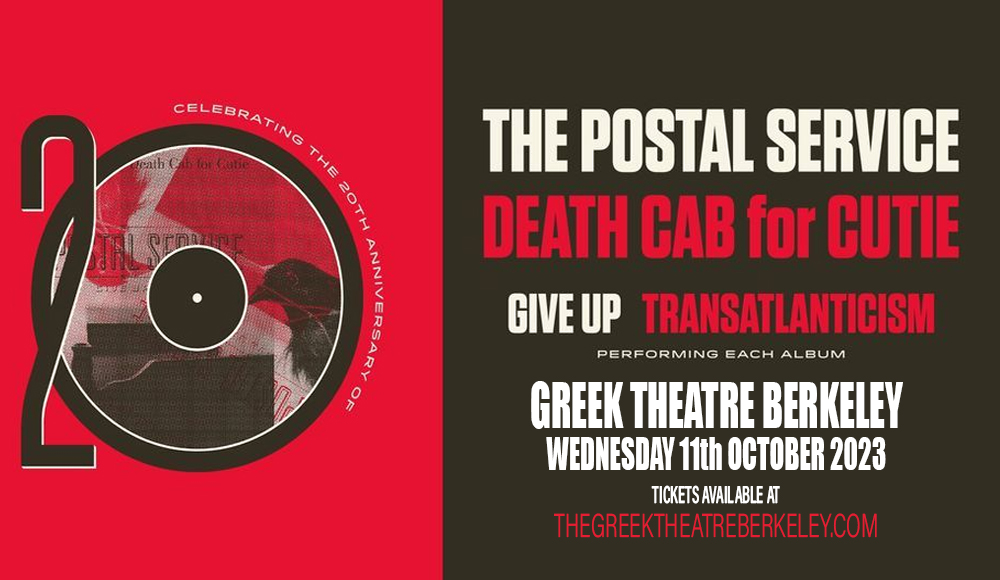 Frontman Ben Gibbard is up for the year of his life as he celebrates two 20th-anniversary milestones of influential records for two bands he fronts – The Postal Service and Death Cab for Cutie. 2023 will mark the 20th anniversary of two industry and career-defining records "Give Up" and "Transatlanticism". As both albums sent influences of new-wave and a distinct rock attitude to the airwaves, both bands are set to team up on a co-headlining tour in celebration of this milestone.
The Postal Service includes Jimmy Tamborello and Jenny Lewis on the roster. They released their sole album "Give Up" on February 18th of 2003. The record featured its certified-Gold single "Such Great Heights. It also features other crowd favorites "We Will Become Silhouettes", "The District Sleeps Alone Tonight", "Be Still My Heart", and "A Tattered Line of String". The album rose to the charts and became certified Platinum by the RIAA. It amassed attention for its new-wave influences blended with indie rock infused with synth pop.
Death Cab for Cutie followed Postal Service's successful release with their very own fourth studio record "Transatlanticism". The album marked the band's first mainstream breakthrough, debuting in the Billboard 200 and being awarded Gold by the RIAA. The album featured their hit singles "The New Year", "The Sound of Settling", and "Title and Registration". The record marked the start of Death Cab for Cutie's successful run in the indie-rock landscape. The band recently released their newest album "Asphalt Meadows" last September of 2022.
"I know for a fact I will never have a year again like 2003," Ben Gibbard shared. "The Postal Service record came out, Transatlanticism came out. These two records will be on my tombstone, and I'm totally fine with that. I've never had a more creatively inspired year."
Celebrating twenty years of genre-defining records up his sleeve, Ben Gibbard is set to hit and share the stage as The Postal Service and Death Cab for Cutie team up to perform these two records like its 2003. Book your tickets now!