William Randolph Hearst Greek Theatre| Berkeley
Van The Man's back in town! There seem to be no signs slowing down for legendary singer-songwriter, Van Morisson's touring engagements. It's truly amazing how Morisson still has that passionate stamina as that of a rookie pop star who can juggle time for songwriting, recording and touring, producing albums and live performances, and sometimes collaborating with other artists. His stunning contribution to music is unparalleled, making him one of the artists that ought to be on your bucket list for must-see concerts. And this is an opportune time to witness a legend in his prime. Catch Van Morrison at Greek Theatre Berkeley on Thursday 30th September 2021. The 'Get Tickets' link is just right there for you to click and take this chance of a lifetime. Hurry, book your tickets now!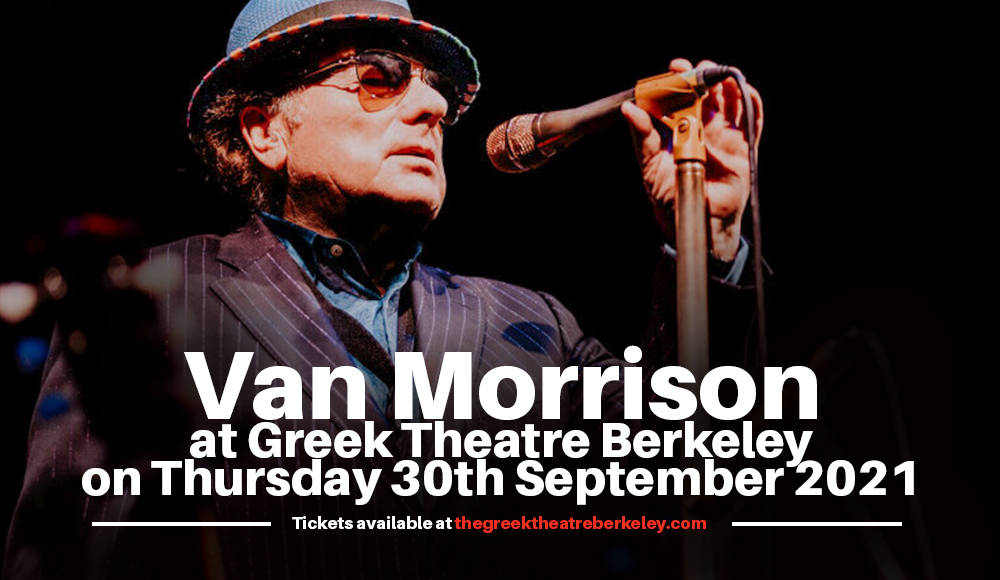 Van Morisson's top 40 classics such as "Brown Eyed Girl," "Moondance" and "Have I Told You Lately," may be well enough to position him amongst the music luminaries; yet Morisson is driven to go beyond the plane of superstardom. His live performances have often been described as "transcendental" and "inspired". He steers his own course, continuing to advance on his status as a game-changing artist. Morrison's career spanning six decades is fully decorated with awards, including two Grammys, The Brit Award for Oustanding Contributions to Music in 1995 and the Americana Music Lifetime Achievement Award in 2017. He also has been inducted into the Rock and Roll Hall of Fame and the Songwriters Hall of Fame. Van Morrison has even been knighted for his contributions to the music industry and to the tourism of Northern Ireland.
One of his greatest legacies is none other than his voice. His trademark growl is said to be a mix of folk, blues, soul, jazz, gospel, and Ulster Scots Celtic influences. Many rock historians have lauded him to be one of the most unusual and influential vocalists in the history of rock and roll. Critic Greil Marcus says "no white man sings like Van Morrison." Marcus also has also captured Morrison's vocal prowess as he writes in his book: "As a physical fact, Morrison may have the richest and most expressive voice pop music has produced since Elvis Presley, and with a sense of himself as an artist that Elvis was always denied."
Van Morrison may comfortably be resting on his laurels now with his vast discography, but his present and future endeavors still stir a great degree of excitement from his legions of followers. And this excitement is utterly contagious, especially with his live shows. Make haste, Van The Man is coming to town, book your tickets now!