William Randolph Hearst Greek Theatre| Berkeley
Internationally beloved troubadour Van Morrison comes to Greek Theatre Berkeley on Friday 4th October 2019! The acclaimed singer-songwriter is touring to promote the release of a deluxe edition of his 1997 LP The Healing Game, which features several previously unreleased tracks from the period, so expect to hear both classic hits and rarities from this esteemed and iconic performer!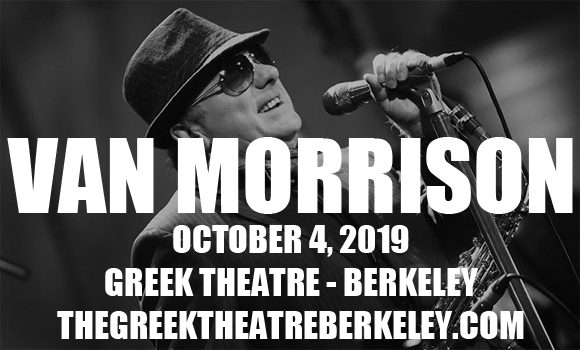 Knighted for services to the music industry in 2016, Van Morrison is one of the world's most renowned singer-songwriters. Morrison began his career in the 1950s playing several instruments (guitar, harmonica, keyboards and saxophone) in various Northern Irish bands, performing the covers of the hits of the time. He went on to join the garage rock band Them in the 1960s, launching hit single "Gloria" (1964), which was subsequently covered by a wide range of prominent musicians, including Status Quo, The Doors, AC/DC, Patti Smith, Jimi Hendrix, among others. In 1967, Morrison had his first solo hit with "Brown Eyed Girl", which peaked at number 10 on the Billboard Chart. Moondance, his 1970 album, became a huge success and marked the beginning of a string of hit albums released throughout the decade. Morrison is the winner of two Grammy Awards, and he received the 1994 Brit Award for Outstanding Contribution to Music. He has also been inducted into both the Rock and Roll Hall of Fame and the Songwriters Hall of Fame.