William Randolph Hearst Greek Theatre| Berkeley
King of the parody, Weird Al Yankovic comes to Greek Theatre Berkeley on Friday 9th August 2019 on the Strings Attached Tour! The hugely successful comedy musician, who is known for his bombastic pastiches of popular songs and culture, will be performing with a full symphony orchestra and a variety of other musicians for what he's dubbed "most full-blown, over-the-top extravaganza ever!" Tickets available now!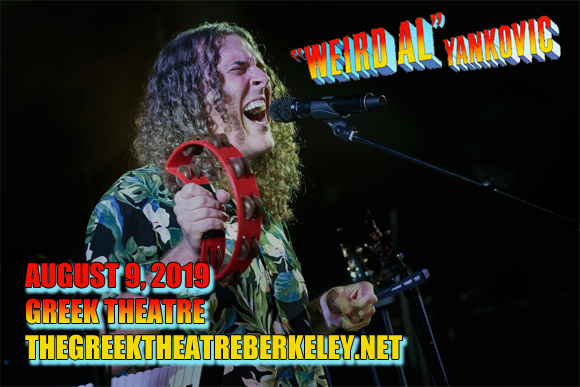 American comic singer-songwriter, film/record producer, satirist, and author "Weird Al" Yankovic has recorded more than 150 parody and original songs, performed more than 1,000 live shows and has sold over 12 million albums since releasing his first comedy song, "My Bologna" (a parody of "My Sharona" by The Knack), in 1979. A four-time Grammy Award winner from eleven nominations, Yankovic has had four gold records, and six platinum records in the United States. Known for his parodies and pastiches of popular culture and music artists, his music is often accompanied by videos that further parody the artists in question, often remaking the music videos for the original songs scene-for-scene. Yankovic's experience with his own music videos led to him directing for other artists, including Ben Folds, Hanson, The Black Crowes, and The Presidents of the United States of America. He also wrote and starred in the film UHF (1989) and The Weird Al Show (1997). In 2006, nearly three decades into his career, Yankovic charted his first top ten Billboard album (Straight Outta Lynwood) and single ("White & Nerdy"). His most recent album, Mandatory Fun (2014), became his first number-one album during its debut week.