William Randolph Hearst Greek Theatre| Berkeley
Ladies and gentlemen, are you hyped to see Young The Giant?? They're hitting the road this year with their phenomenal fourth album "Mirror Master." Joined by Fitz and The Tantrums, they're headed to the Greek Theatre Berkeley on Thursday 15th August 2019 – don't miss out!! Click the "Buy Tickets," button above and get yours while they last!!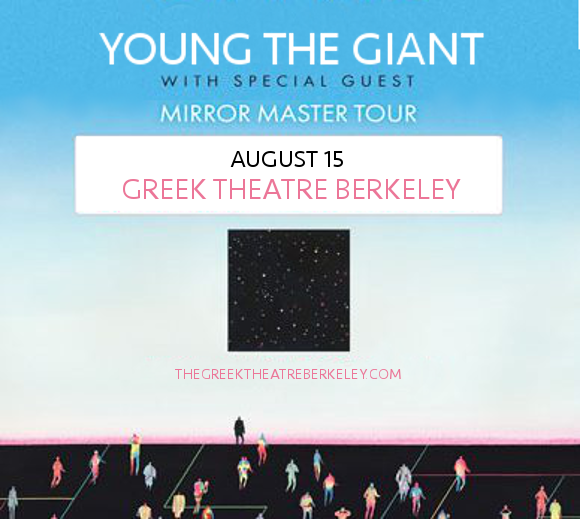 Currently comprised of singer Sameer Gadhia, guitarists Jacob Tilley and Eric Cannata, bassist Payam Doostzadeh and drummer Francois Comtois, Young The Giant made a splash in 2010 with their self-titled debut, the singles "My Body", "Cough Syrup", and "Apartment", all making their way to the Alternative Songs Chart. Since then, they've gone from strength to strength, with four studio albums, each more popular and gaining more critical acclaim than the last. "Mirror Master," is the follow-up album to their 2016 release "Home of the Strange".
"Where Home of the Strange was an external record looking at where America is, this record in a lot of ways is very reflective," mused vocalist Sameer Gadhia in an interview, when asked about the ways their latest album related to their previous. "You look at yourself in the mirror every day and you see a different version of yourself. You're not just this static thing. You encompass everything. In order to make any change in the world, you need to be okay with yourself first and all those different characters of who you are… In reality, all of us harbor anxiety, sadness, depression. We want to embrace all sides of who every person is and be vulnerable in that. You are master of your own image."
Are you ready to hear all the latest songs live?? Then be quick about getting those tickets – they aren't going to last!