The William Randolph Hearst Greek Theatre | Berkeley, California
An explosion of exciting psychedelic cumbia music comes your way this October 1st as the Columbian electro band, Bomba Estereo, brings the excitement of their Deja World Tour to Hearst Greek Theatre at UC Berkeley. The eccentric Columbian band will surely make you dance and sing to their all-time hits and songs from their newest album, "Deja." It doesn't matter if you speak Spanish or not. As long as you enjoy great music, this concert is for you. Book your tickets now and prepare to kick off your October with a bang! Click the "Get Tickets" link on this site for a safe and fast transaction.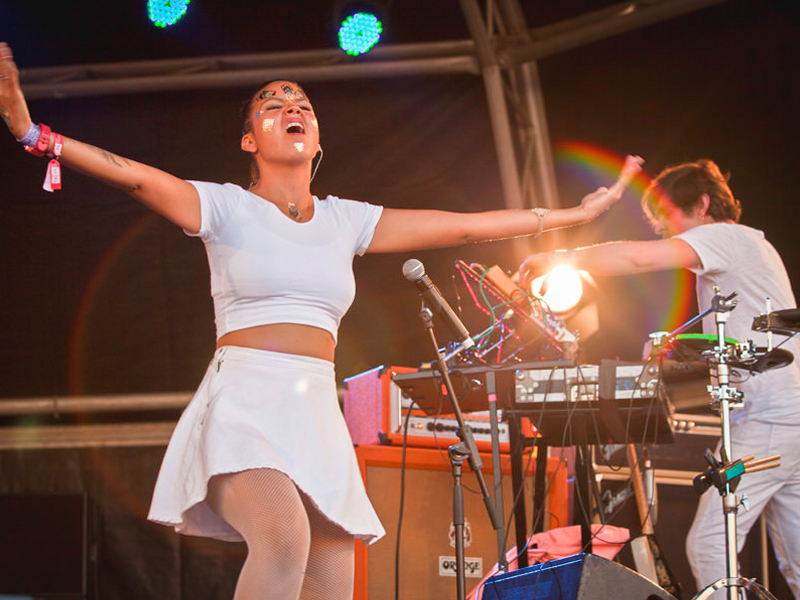 Founded in Colombia in the mid-2000s by musician Simón Mejía and singer Li Saumet, Bomba Estereo rose to international recognition through the irresistible combination of folk melodies, cumbia rhythms, electronic sounds, and a keen sense of pop hooks. Throughout their career, the duo consistently produced one hit after another, including tracks like "Fuego," "Soy Yo," and "To My Love." In addition, they have been a constant performer for several important music festivals, clubs, and venues. Their eclectic, avant-garde fusion of electronic and Caribbean sounds has captured the hearts of millions all over the world.
Although the band is yet to win a Grammy, they have been nominated twice for the "Best Latin Rock, Urban or Alternative Album" category in the 2016 and 2018 editions of the prestigious award-giving body. They were also given multiple nods in the Latin Grammy Awards for several categories, including the coveted "Record of the Year."
Moreover, their newest album, Deja, will most likely rack up nominations again due to its uniqueness and meaningfulness. Dubbed by Rolling Stone as "one of the most consciously (and best) post-pandemic records of the year," the album does not only offer a familiar festive electronic-folk sound that gained the band its international recognition but presents socially conscious tracks. Songs like "Tierra," "Agua," and "Amor Amor," among many others, show Bomba Estereo's superiority in the genre.
This fall, you can witness Bomba Estereo perform their newest songs from the new album. Along with the full band, the duo will make a stop at Hearst Greek Theatre at UC Berkeley this October 1st to perform for their California fans. You can get your tickets here by clicking on the "Get Tickets" link. Place your ticket orders now to secure VIP access and get the best seats in the venue.