The Greek Theatre | Berkeley, California
We want the funk! Well your going to get it as Chromeo have announced their summer 2019 tour dates are more than just a rumour!! Get ready for the night of your life as Chromeo bring the excitement and energy to the live stage! Joining them for this special date is Toro y Moi & the sensational rising star Noname… catch all of this incredible talent as it arrives at Greek Theatre Berkeley on Saturday 15th June 2019! Tickets won't be around for long – secure yours today!!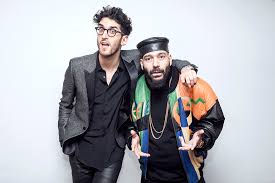 Once again, Chromeo are taking over the stages across North America this coming summer concert season and it's about to get funky up in here! On June 15th, Chromeo will be heading down to Greek Theatre for a show that is going to blow your minds!
The Montreal-based band Chromeo have been rocking the stages since 2002 when they begun formation. The two talented musicians, David "Dave 1" Macklovitch and Patrick "P-Thugg" Gemayel first met whilst they were studying at College Stanislas in Montreal during the mid 1990's. Together they started writing and performing and their dreams were about to come true as they decided they would dedicate their career to music. With their love of Funk and Electronic music, David and Patrick fused the two genre's together and carefully crafted the distinctive Chromeo sound!
They kick started their musical careers as hip-hop producers and when they were ready to do their own thing they received their big break in 2004 with the release of their '80s influenced debut album, She's in Control. With the success of the album, they were encouraged to make another and after three years since their last release, they showcased a second album, Fancy Footwork, which also followed in the same successful footsteps! Their third album, Business Casual, released in 2010 however exploded across the music scene and gained positive reviews and feedback from fans and critics alike! The video for one of the album's singles "Night By Night" went viral and received 4 million views on YouTube to date… putting them right at the top of their game!
As they did before, they had a three year break once again between releases to refresh and restart and crafted their fourth studio album in 2013. White Women was released with a trailer video featuring the track "Over Your Shoulder". After the groundbreaking record, Chromeo were performing at some of the biggest venues in the world, along with this they became a festival highlight and took to the stage, including a show at the Coachella Valley Music and Arts Festival in April 2014!
In 2017, Chromeo gave to the world a fifth studio album, Head Over Heels, along with a fresh new single "Juice" – since which the duo have been continuing to perform out of this world concerts!
2019 is bound to be yet another groundbreaking year for Chromeo – join them on their summer 2019 tour dates at a venue near you!