The Greek Theatre | Berkeley, California
One of the industry's hottest DJs hailing from Australia, Flume, is going places, taking his new hard-hitting EDM record, "Palaces", to the big stage, on tour. Announcing a slew of new tour dates in support of his 3rd LP, Flume is set to electrify the stage at Greek Theatre Berkeley on Friday, 8th of September 2023. Amassing attention for his crowd-favorite hits, "Never Be Like You" feat. Kai and "Say It" feat. Tove Lo, the man is taking his huge comeback to the live stage, with doses of his new music, turning up the party with "Say Nothing" feat. May-a and "Hollow" feat Emma Louise, and more of his new material. Also known for his astounding remixes of mainstream hits, big surprises can be expected from a Flume show. As the Palaces Tour welcomes Berkeley to its roster, make sure to RSVP for a wild night by booking those tickets now!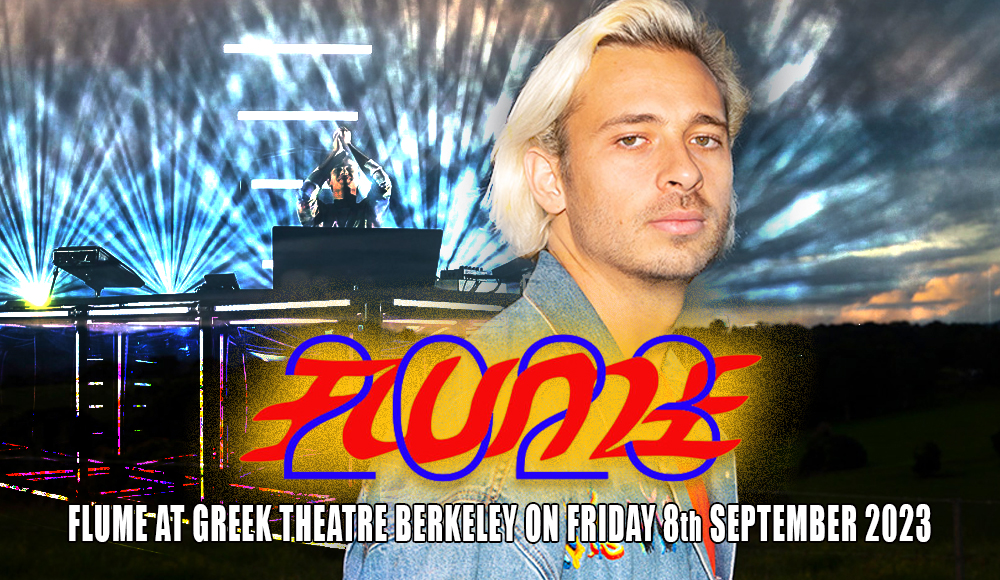 Making a mark in the scene for his acclaimed remixes of tracks from the likes of Sam Smith, Lorde, and Disclosure, Flume quickly rose to become one of the industry's hottest EDM DJs to watch out for. Releasing his second LP "Skin" in 2016, Flume bagged another #1 on the ARIA charts, winning Best Dance/Electronic Album at the Grammy Awards in 2017. Six years later, the man finally served his highly-anticipated third full-length album, "Palaces".
The album features his singles "Say Nothing" feat. May-a, "Sirens" feat. Caroline Polachek, "Escape" with Quiet Bison featuring Kučka, "Palaces" feat. Damon Albarn, and "Hollow" featuring Emma Louise.
"Palaces encapsulates all of Streten's successful recipes while twisting and turning through occasional oddity," The Daily Californian shared in a review of the new record. "The Australian artist's bodacious attitude is the centerpiece of his music."
Flume largely credits SOPHIE as an inspiration behind his new record. Amidst uncertainties and struggles over the last few years, the DJ pushed through and served his very best, making fans go crazy over his new hot mixes. "I don't think I've ever been influenced by someone so much or so inspired by a single person," Flume shared with The Music. "Then, on top of that, to be able to call SOPHIE a friend and work with SOPHIE on so many different projects over the years, a bunch of songs on the mixtape… It's genuinely devastating, not only on a personal level, but on a creative level and a cultural level for the world."
From a kiddo who began mixing music with a basic DJ and mixing program CD found in a box of Nutrigain, young Harley Streten quickly grew interested in the idea of making his own beats at age 11, gaining a new perspective on how music is made. In 2011, he signed a record deal after making it to second place in a competition. By 2012, he released his debut LP, featuring his first singles "Sleepless", "Over You" and "Paper Thin". He quickly gained attention, bagging Gold and Platinum certifications from the RIAA. From then on, Flume hopped on an endless journey of serving astounding beats matched with hypnotic visuals that keep fans craving for more.
His second album, Skin, won him the acclaim and recognition he continues to receive to this date. The album featured his biggest hits "Never Be Like You" featuring Canadian singer Kai and "Say It" featuring Tove Lo, earning multi-platinum certifications from the RIAA.
With "Palaces" taking over EDM airwaves, the man is set to share his new craft, live on stage across the world at his very own Palaces Tour. Make sure to RSVP for a wild night, raving to his biggest hits, fan-favorite mixes, and new beats live on stage by booking those tickets now!