William Randolph Hearst Greek Theatre| Berkeley
Indie pop fans, we've got some exciting news for you! Bastille return from 5 years out of the spotlight with an all-new album and MASSIVE North American tour!! They're headed to the Greek Theatre Berkeley on Friday 11th October 2019 – it's going to be epic!! Tickets are on sale now for this amazing show – don't miss out on your chance to see it! Hit the "Buy Tickets," button and get yours today!!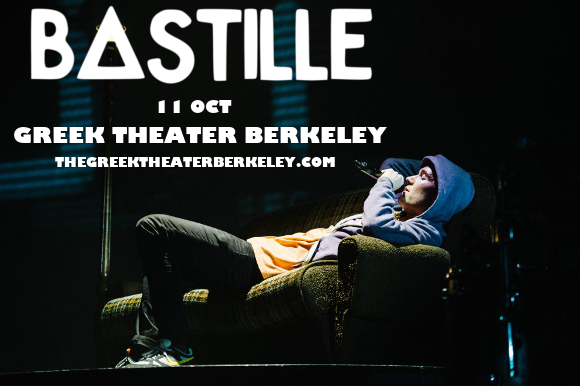 Formed in 2010, Bastille signed to Virgin Records after self-releasing their first EP. Their first studio album, "Bad Blood," was a massive hit in the UK. It topped the album charts and included the single "Pompeii," which reached the second spot on the UK Singles Chart. The album was followed up by "Wild World" in 2016, after which the band have been quiet. So the news of the new record is getting fans pretty hyped!
Bastille have teased the new album with the single "Joy." Although the song has dark overtones, with the album overall representing an "apocalyptic house party," the song also is surprisingly upbeat for the band with the addition of gospel singers into the mix. "It's the song that's most obviously influenced by our re-orchestrated tour," keyboardist Kyle Simmons explained. "The gospel singers are over the entire track. It's crazy and to have it as the second most important on the track, that's something we wouldn't have done before."
Get ready to experience Bastille at their latest and most imaginative best – grab your tickets while you can!!