William Randolph Hearst Greek Theatre| Berkeley
Ladies and gentlemen, get ready to see one of the most innovative acts of the last decade; indie-pop scarcely begins to describe the sound of the Glass Animals!! On tour with their much-anticipated second album, "How To Be A Human Being," the eclectic four-piece comes to Greek Theatre Berkeley on Friday 22nd September 2017 for a stunning show of psychedelic indie that you'll never forget!! Hit the "Buy Tickets," button to get yours – don't wait about, though, as they aren't going to last long!!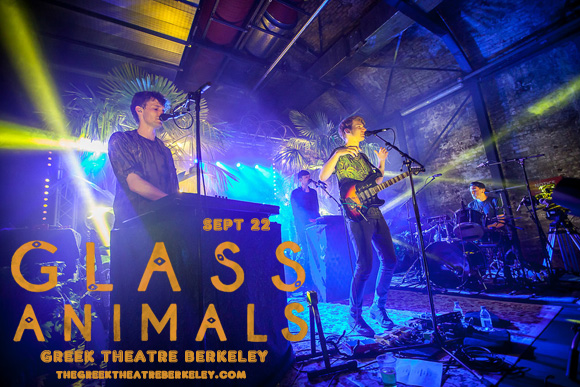 Formed by childhood friends Drew MacFarlane, Dave Bayley, Edmund Irwin-Singer, and Joe Seaward. While at university, they released "Leaflings," their first EP. In 2013, they released their second EP, "Glass Animals," showcasing their unique style – incorporating elements of psychedelia and organic-sounding rhythms and sounds into songs centred around the natural world.
Catching the attention of producer Paul Epworth (Adele, Bruno Mars) the band were signed to Wolf Tone and released their debut album, the critically acclaimed "Zaba", containing the popular singles "Black Mambo", "Gooey", "Pools", and "Hazey". Loved by audiences and praised by critics for its subtle blending of electronic and R&B elements, the album featured tribal drumming in addition to ambient sound of nature, such as animal cries.
Having opened for artists including St. Vincent, Metronomy, and Yeasayer, the Glass Animals are now on a headline tour with their amazing second album, "How To Be A Human Being". Get ready to hear all the new material and your old favourites live – book your tickets to see the Glass Animals today!!