William Randolph Hearst Greek Theatre| Berkeley
Grammy Award-winning electronic band LCD Soundsystem comes to Greek Theatre Berkeley on Sunday 29th April 2018 for the final event in their three-night-run! The recently re-formed band has extended last year's incredibly successful reunion tour, promoting their most recent album, American Dream! Catch James Murphy et al performing tracks from the album, plus classic tunes like "Daft Punk Is Playing at My House"!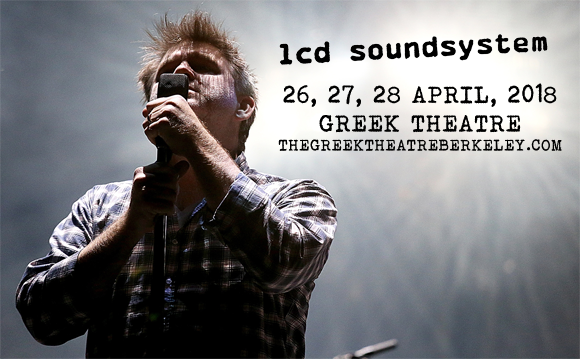 American rock band LCD Soundsystem is the brainchild of musician James Murphy, co-founder of DFA Records, and was formed in Brooklyn, New York, in 2012. The band released their Grammy-nominated eponymous debut album in 2005, launching the single "Daft Punk Is Playing at My House", which also received a Grammy nomination for Best Dance Recording. 2007 saw the release of their follow-up album, Sound of Silver, which received widespread critical acclaim and received another Grammy nomination for Best Electronic/Dance Album. After disbanding in 2011 (the band's Madison Square Garden farewell concert is chronicled in the documentary film Shut Up and Play the Hits and was also made available as a live album, titled The Long Goodbye, in April 2014), LCD Soundsystem re-formed in 2015 and their new studio album, American Dream, was released in 2017.