William Randolph Hearst Greek Theatre| Berkeley
If you've 'been searching for a trail to follow again, let Lord Huron lead you on a night that'll take you back to 'the night we met, as the hit song goes. The indie rock band behind the crowd-favorite 3x Platinum hit single "The Night We Met" is back on the road kickstarting their 2022 summer tour with a pitstop at Greek Theatre Berkeley on Wednesday, 25th of May 2022. The indie-rock sensation released their fourth album "Long Lost" the past year that features the singles "Not Dead Yet" and "Mine Forever" among others. Don't miss out on a night that'll take you back to good ol' days of live indie rock music, joining the crowd as you sing along to your favorite hits, led by Lord Huron. Book your tickets now!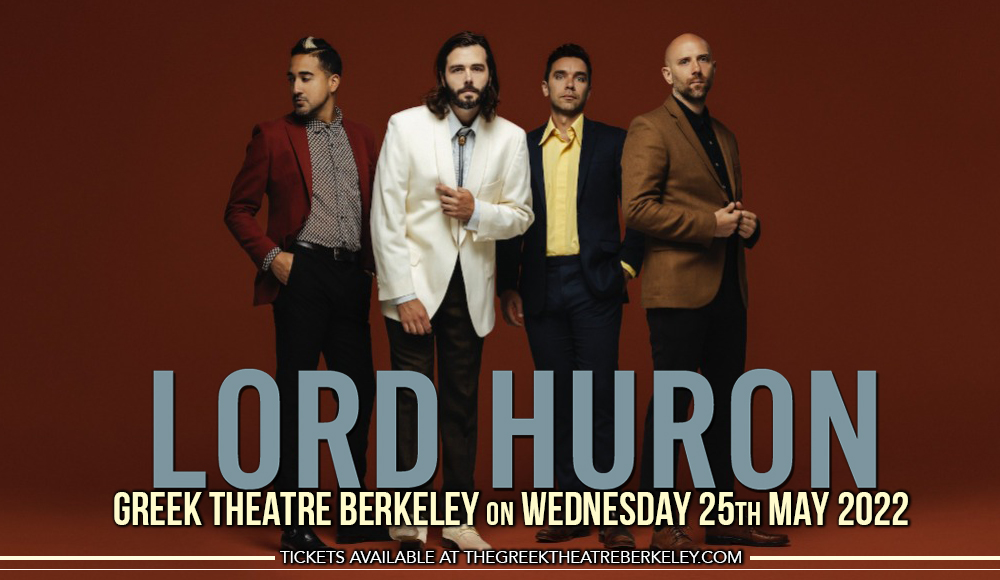 Lord Huron finds its roots in Michigan as founding member Ben Schneider began writing music in his hometown, growing up visiting Lake Huron. As he moved to Los Angeles, Lord Huron was originally formed as a solo project, then later on adding members who bring life to the band to this day. From founding member and lead singer Ben Schneider, its current members include Mark Barry, Miguel Briseño, and Tom Renaud.
In October of 2012, Lord Huron released its first album, "Lonesome Dreams", taking a spot at #5 on the Heatseekers Albums chart. The band started its signature classic and sentimental vibe with a series of music videos filmed reminiscent of the 70s style. "We had this fun idea that Lonesome Dreams was kind of this series of old adventure tales." the band said.
By 2015 they dropped their second album "Strange Trails" which featured the 3x Platinum hit single "The Night We Met" which you might have heard from the popular Netflix series. The album hit #23 on the Billboard 200, #1 on the Folk Albums chart, and #10 on the Top Album Sales chart.
Following their 2018 album "Vide Noir", Lord Huron dropped its fourth and latest studio record, "Long Lost" in 2021.
Lord Huron is known for its surprises and astounding live performances that take fans on a night of wonder and emotion as the band leads them on the trail that their music marks. So, if you've been 'long lost, you can find yourself jamming the singing your heart out as the crowd cheers for the one and only Lord Huron. Book your tickets now!