William Randolph Hearst Greek Theatre| Berkeley
MASSIVE NEWS metal fans!! The legendary PRIMUS are continuing on their tour from last year for another two months this summer, and they'll be joined on the road by none other than Mastodon!! Coming to the Greek Theatre Berkeley on Friday 29th June 2018 – be there!! Grab your tickets as soon as possible to guarantee your place at the show – it's going to be an awesome one!!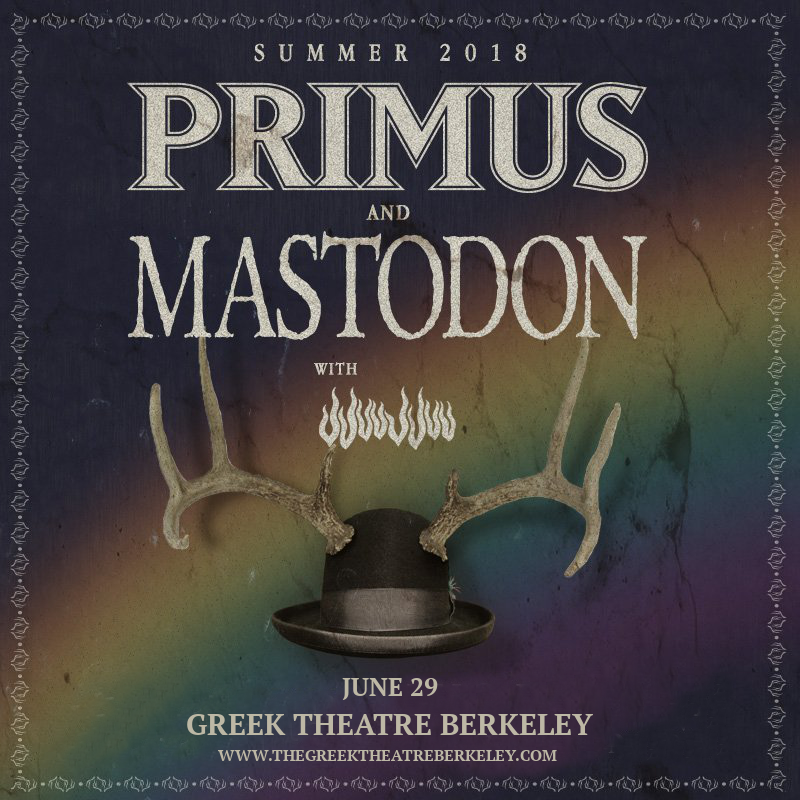 Late last year, Primus released their ninth studio album, "The Desaturating Seven," a concept album centered around "The Rainbow Goblins," children's book by Ui de Rico. The album takes them back to an older sound, more prog-rock than they have been recently. Called the "the tightest, most focused album of Primus' career," by PopMatters, it's no surprise that "The Desaturating Seven," was received to rave reviews from critics and audiences alike, as it marks the first return of the band's ultimate lineup – Les Claypool, Larry "Ler" LaLonde and Tim "Herb" Alexander — and the first album with that lineup since 1995.
As for Mastodon, they'll also be supporting a recent album – "Emperor of Sand," released March last year. Also a concept album, its storyline centers around a desert nomad who is given the death sentence, and themes of very real mortality are heavily reflected upon in this fictional tale. The album sold 43,000 copies in its first week of release, making it the band's most successful to date!!
Get ready to hear all the new material from both bands live – get your Primus and Mastodon tickets NOW while they last!!