Greek Theatre - U.C. Berkeley | Berkeley, California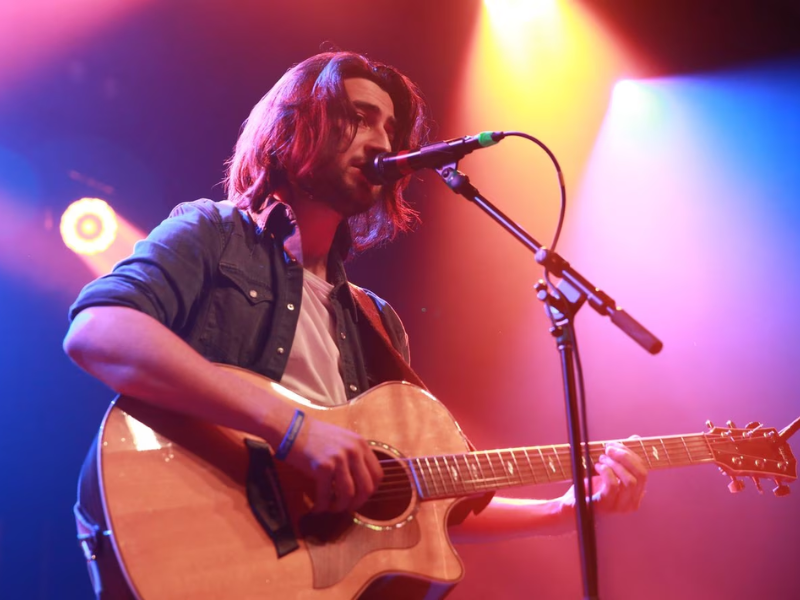 It's going to be a folk-pop Friday night on July 5 as Noah Kahan takes the Greek Theatre's stage by storm! Hot off the success of last year's Stick Season Tour, the emerging artist will embark on a North American road trip with 32 shows en route, including a two-night stop here at Berkeley's premier amphitheater. The Greek Theatre can comfortably seat 8,500 adoring fans and astonish them with stellar outdoor acoustics and sightlines. Noah Kahan is arguably 2023's most impressive breakout phenom! His third studio album, Stick Season, was a certified Billboard-breaker with three top 3 peaks, including two first-place spots in the US Top Alternative and Rock Album charts. A true alt-folk musician, Kahan connects with his listeners through beautifully vulnerable lyricism, a fact immediately evident in tracks such as "Northern Attitude" and "Hurt Somebody" feat. Julia Michaels. Hit the "Get Tickets" button to claim your seats to see Noah Kahan LIVE this coming July in Berkeley, California!
Noah Kahan is making a run for it with another MASSIVE North American concert series this 2024! His new venture, dubbed "We'll All Be Here Forever," will follow yesteryear's SOLD-OUT Stick Season Tour run. The singer-songwriter has announced 32 dates, starting in Vancouver, BC, and wrapping up in Boston. Kicking off the last half-dozen shows, Kahan will visit Berkeley's Greek Theatre for a two-night engagement, opening on the 5th of July!
"Kahan is a fantastic performer, even better live than on his recordings, with a Coldplay-meets-Americana sound punctuated by his acoustic guitar strums and a driving beat on every chorus. People would jump up and down and hold their hands out as if they were trying to capture the magic in the air and take it home with them."
The official setlists for the tour are TBD. Instead, here's a recent one from September for a potential glimpse.
Northern Attitude
She Calls Me Back
New Perspective
Everywhere, Everything
Your Needs, My Needs
Maine
Growing Sideways
Paul Revere
All My Love
False Confidence
Call Your Mom
You're Gonna Go Far
Orange Juice
Dial Drunk
ENCORE
The View Between Villages
Stick Season
Homesick
Our headlining act is the very definition of a breakout star, an alt-folk force to be reckoned with. Billboard's Hannah Dailey described Kahan's sound as "one of the most timeless genres out there." He infuses a hefty dose of vulnerability into his music while employing a relatable brand of self-deprecating humor in the verses.
The New Englander launched his debut album, Busyhead, in 2019, which included the smash hit "Hurt Somebody" featuring five-time Grammy nominee Julia Michaels. But in 2022, Noah Kahan took his career to the next level with his third studio album, Stick Season. The collection connected instantly with listeners from all over the country, claiming the no. 1 spot in the US Top Alternative and Rock Album charts, plus a third-place peak in the Billboard 200.
Berkeley, California, excitedly welcomes Noah Kahan back for his "We'll All Be Here Forever" tour stop on July 5. Once again playing host, the Greek Theatre guarantees fans the complete Kahan experience with an amazing view from its cascading rows of 8,500 seats and resonating outdoor acoustics. We're expecting a SOLD-OUT venue sooner rather than later, so we HIGHLY recommend buying your tickets now while you still can!