Greek Theatre - U.C. Berkeley | Berkeley, California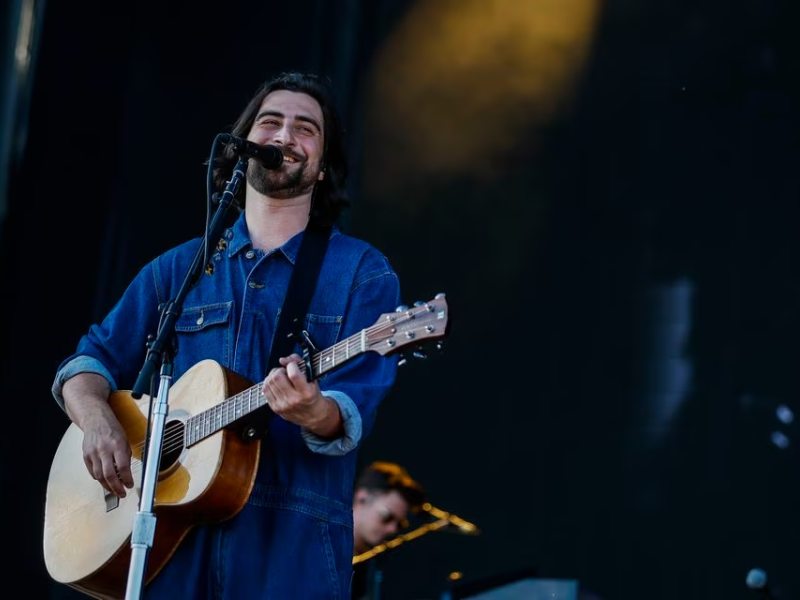 Catch Noah Kahan LIVE as he closes his Berkeley tour stop on Saturday, July 6, at the Greek Theatre! Named after Stick Season's expanded release, Kahan's We'll All Be Here Forever Tour targets North American cityscapes with 32 scheduled shows. Its pit stop in Berkeley, California, will be held at the Greek Theatre, an 8,500-capacity venue that combines the scenic outdoors with immersive lights and acoustics for the ultimate concert experience. Hailing from humble New England, this alt-folk upstart's career has soared through the skies and connected listeners to the music of small-town sentimentality. Best-known for his breakout album, Stick Season, Kahan has topped several charts in short order, including a third-place peak in the esteemed Billboard 200. He is also the songwriter of gold-certified hits "Northern Attitude" and "Dial Drunk" feat. GRAMMY-winning rapper Post Malone. To book your seats for Noah Kahan's LIVE concert performance, click the blue "Get Tickets" button above!
Fall back into the addicting warmth of Noah Kahan's music as he returns to the road with another nationwide engagement. A direct successor to the sold-out Stick Season Tour last year, this new string of shows will see the rising folk star perform across 32 dates. Kahan's stop here in Berkeley, California, will be marked with a two-night outing at the Greek Theatre, concluding on a Saturday night, July 6. The tour's title, "We'll All Be Here Forever," references and promotes the extended version of his third studio album, Stick Season.
In an exclusive interview, Kahan shared his reasons for revisiting his breakthrough album.
"There was so much more of the story that I wanted to tell. The feeling of creative freedom that I had on Stick Season was so potent and so—I don't know—intense and addictive that I didn't want to leave that space. I felt like I had more to give, musically. This was my first experience in a long time making songs that felt so creatively right and so fulfilling."
Official setlists are yet to be announced. For a possible sneak peek, here's one from our headlining act's most recent concert.
Northern Attitude
She Calls Me Back
New Perspective
Everywhere, Everything
Your Needs, My Needs
Maine
Growing Sideways
Paul Revere
All My Love
False Confidence
Call Your Mom
You're Gonna Go Far
Orange Juice
Dial Drunk
Encore
The View Between Villages
Stick Season
Homesick
The alt-folk scene has always produced some of the most evocative songwriters in America. Now, we welcome Noah Kahan, the New England upstart with a knack for small-town hymns and vulnerable sentiment in lyrics. Kahan officially broke into the industry back in 2019 with his freshman album, Busyhead. However, it was only recently with Stick Season, his third, that our featured artist claimed his throne in the public consciousness. The album was a spontaneous success, due in no small part to the platinum-certified titular track and the hit single "Northern Attitude." It also hit third place in the highly competitive Billboard 200, in addition to first-place peaks in the US Top Alternative and Rock Album charts.
Noah Kahan's Berkeley visit will close on July 6, a Saturday, at the William Randolph Hearst Greek Theatre on the UCB campus. This sprawling outdoor concert venue can accommodate 8,500 fans, offering them one unforgettable night thanks to its wide-range sound systems, high-end seats, and cutting-edge stage light setups. Tickets are selling fast - get yours now!